Naomi Campbell Could Be Jailed 7 Years if She Doesn't Testify in Taylor Trial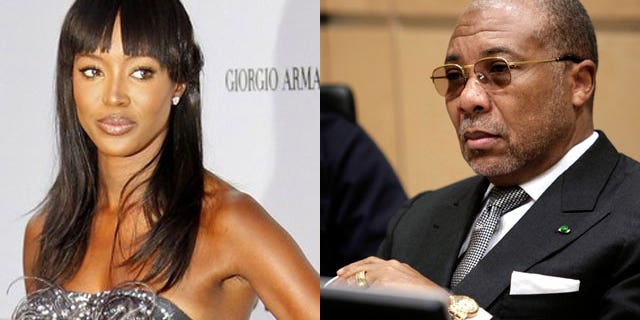 NEWYou can now listen to Fox News articles!
An international court Thursday subpoenaed reluctant supermodel Naomi Campbell to testify this month in the war crimes trial of former Liberian President Charles Taylor, warning her she could be jailed for up to seven years if she refuses.
The Special Court for Sierra Leone issued the order forcing Campbell to testify after she avoided prosecutors for a year and made it known she had no wish to be part of the case.
She was ordered to appear in court in The Hague on July 29 at 9 am "or to show good cause why you cannot comply with this subpoena."
Refusal could lead to prosecution for contempt, which carries a maximum seven-year prison sentence and a fine of 2 million Sierra Leone leones, or about $510, according to the subpoena released by the court.
The appearance of Campbell, as well as of actress Mia Farrow and the model's former agent Carole White, who do not appear to have resisted testifying, will add a touch of glitz to a case already seen as a landmark, the first time a former African head of state has been put on trial by an international court.
The court said the summons will be delivered to Campbell's lawyer in London, Gideon Benaim, who has told the court he will accept it.
Nonetheless, the subpoena said, British authorities may be asked to "ensure that, you, Naomi Campbell, appear at the time and place indicated above."
Prosecutors had complained to the judges that they had tried unsuccessfully to contact Campbell several times since June 2009, when they received information that Taylor had given her a rough diamond as a gift during a celebrity-packed 1997 reception in South Africa hosted by then-President Nelson Mandela.
They said Campbell's testimony would support their contention that Taylor lied when he testified that he never possessed rough diamonds.
"The prosecution has shown that there is at least a good chance that the information to be provided by Ms. Campbell would be of material assistance to its case," said an earlier ruling dated Wednesday.
It cited Campbell's public statements that she "does not want to be involved in the case."
Taylor is accused of supporting rebels in Sierra Leone's 1991-2002 civil war, which claimed an estimated 500,000 victims of killings, systematic mutilation or other atrocities, with some of the worst crimes committed by child soldiers who were drugged to desensitize them.
In return for helping the rebels, prosecutors say Taylor plundered the neighboring country of its timber and mineral wealth, including gems that became known as "blood" diamonds.
His trial is being held in The Hague for fear of renewed violence if hearings were conducted in Sierra Leone. After several false starts, it began in earnest in January 2008. Taylor's own testimony took seven months.
Defense attorneys objected to the request to summon Campbell, arguing that the prosecution had concluded its case 18 months ago and that Campbell's story is irrelevant since she cannot testify to any connection between the diamond and Taylor's alleged involvement with Sierra Leone rebels. The court ruled earlier this week, however, that the prosecution could summon the three women.
Farrow already has given a written statement to the court that Campbell told her about the gift, but the judges refused to accept the statement when the prosecution tried to introduce it as evidence last January. Under cross-examination, Taylor said the story was "totally incorrect."