MSNBC's Mika Brzezinski attacks Sarah Sanders, Ivanka Trump over POTUS support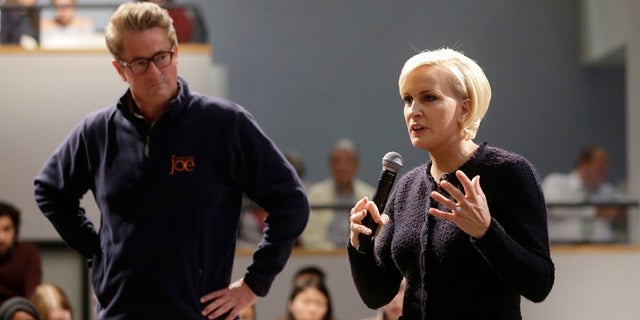 MSNBC's "Morning Joe" co-host Mika Brzezinski called for women who work in the White House, including First Daughter Ivanka Trump, to turn their back on President Trump during a heated rant on Tuesday.
Brzezinski was fired up after Trump attacked Sen. Kirsten Gillibrand, D-N.Y., who has called for Trump to step down, and the liberal morning show co-host snapped, telling female staffers they're "worth nothing" unless Trump deletes his tweet.
Trump tweeted, "Lightweight Senator Kirsten Gillibrand, a total flunky for Chuck Schumer and someone who would come to my office "begging" for campaign contributions not so long ago (and would do anything for them), is now in the ring fighting against Trump. Very disloyal to Bill & Crooked-USED!"
"Morning Joe" aired in front of a live audience in Alabama on Tuesday and the crowd collectively gasped when Brzezinski read the tweet, emphasizing the "would do anything for them" part of the statement.
Brzezinski didn't hold back, calling the tweet "reprehensible" but quickly turned her attention to the woman who work for Trump.
"Sarah Huckabee Sanders, good luck today in the briefing. Don't lie. And do not defend the President of the United States for what he did. If you do… you should resign," Brzezinski said. "But everybody else, working around the president, if your day is not consumed by getting him to take down that tweet, please leave. You are worth nothing."
The fired-up Brzezinski said women in the White House "don't care about this country" unless they can get Trump to delete his tweet.
"You don't care about this country. You don't care about women, and you will support a man who does something like that. Read that tweet. Read what he put in parentheses and decide what you're going to do at work today. If it's anything less than making him take down that tweet or quitting, I feel sorry for you," she said.
Brzezinski called on Ivanka Trump to "finally stand up for what is right, since her father just literally sexually harassed in a cruel way, a woman on Twitter."
"Ivanka, you stepped in there to talk for women. To speak for women, to have a platform for women. Where are you today?" Brzezinski said.
"Sarah Huckabee Sanders, today is your day… to say the president is a sexist," she said. "Do the right thing."