Movie News - Eclipse Rises to No. 1, But Can't Pass New Moon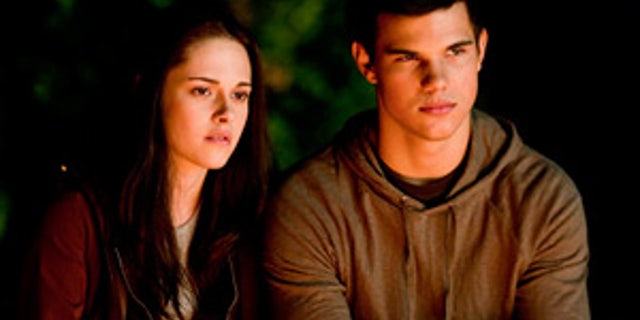 The Twilight Saga: Eclipse soared to No. 1 over the Fourth of July weekend, but couldn't eclipse the haul of its predecessor.

The third installment in the vampire film franchise raked in $82.5 million during the four-day weekend to bring its six-day total to $175.3 million, according to Box Office Mojo. If estimates hold, the tally falls $4 million shy of New Moon's $179 million six-day gross in November.

Eclipse breaks midnight record with $30 million

Eclipse broke the midnight box-office record — previously held by New Moon — when it earned $30 million Wednesday morning, but it quickly fell off pace over the weekend.

Opening in second place was The Last Airbender with $53.1 million over the long weekend. The M. Night Shyamalan film has reeled in a total of $70.5 million since its Thursday release.

Watch clips from Eclipse

After two weeks at No. 1, Toy Story 3 dropped to third place with $42.2 million. Its total now stands at $301 million, making it the third-biggest movie of 2010, behind Alice in Wonderland ($334 million) and Iron Man 2 ($308 million).

Rounding out the top 10: Grown Ups (No. 4, $26.5 million); Knight & Day (No. 5, $14 million); The Karate Kid (No. 6, $11 million); The A-Team (No. 7, $4.2 million); Get Him to the Greek (No. 8, $1.6 million); Shrek Forever After (No. 9, $1.2 million); and Cyrus (No. 10, $1 million).
Comment on this article at TVGuide.com >
Related Articles on TVGuide.com
Other Links From TVGuide.com