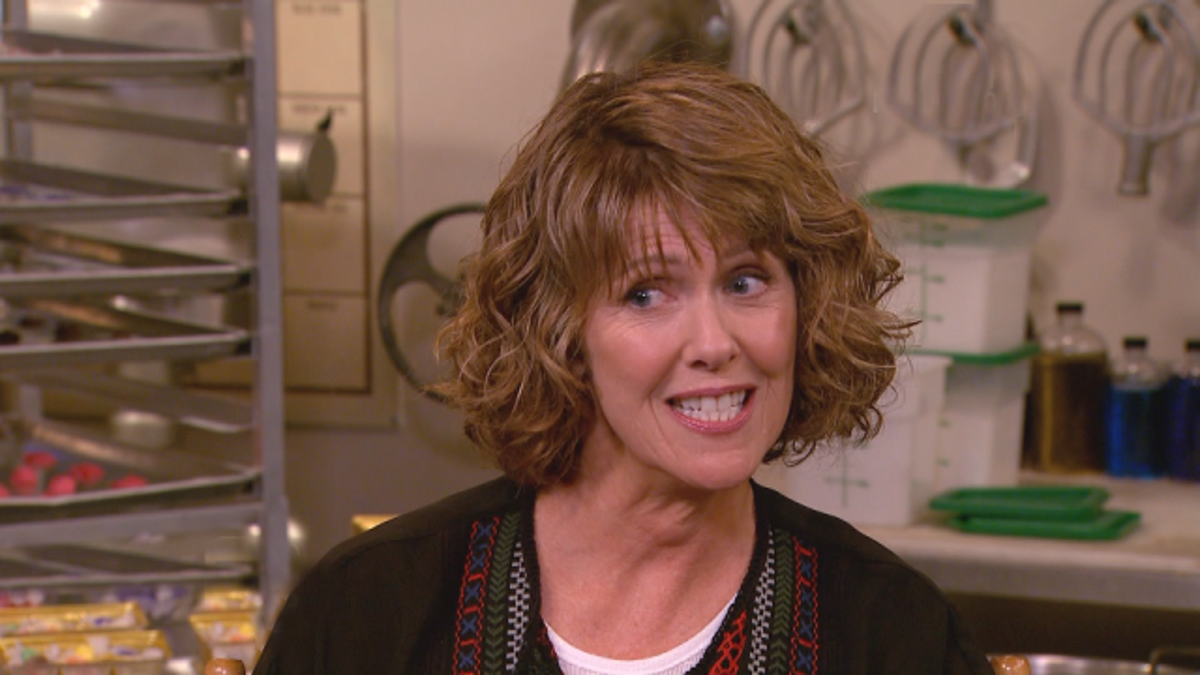 Mork & Mindy star Pam Dawber believes her family with husband Mark Harmon wouldn't be as stable had she kept acting full-time.
"I don't think two people can work all the time in show business and stay married," Dawber tells ET's Nischelle Turner.
WATCH: Robin Williams and Pam Dawber Reunite as 'Mork & Mindy'
Dawber and Harmon, both 65, will celebrate their 30th wedding anniversary next year. When Dawber and Harmon wed, the actress was still going strong off the success of her sitcom, "Mork & Mindy," and the handsome heartthrob was more than a decade into an extraordinary TV career, which included roles on "The Love Boat" and "St. Elsewhere." Today, Harmon stars on CBS' No. 1 rated drama "NCIS," while Dawber gave up fame more than a decade ago to raise the couple's two sons: 28-year-old Sean and 24-year-old Ty.
"I was in a number one show. I had my own deal. I got to do Broadway. I got to do musical theater. I got to do cartoon voices," Dawber says. "I did everything you can do in this business, and then I had children and it's like, 'I'm not going to chase this fame thing.'"
Dawber's last steady acting gig was lending her voice to Perdy on the animated TV show "101 Dalmatians: The Series" in 1998.
"I wanted to drive my kids to school. I wanted to be there for their birthdays and bring cupcakes and donuts and do the school festivals and all that, and I did," Dawber says. "I got to teach in their art class and so it was a different life then and I was very happy to do it."
WATCH: 13 Careers Garry Marshall Helped Launch: From Robin Williams to Julia Roberts
In addition to being a major presence in her children's lives, it was also important to Dawber to keep her family out of the tabloids.
"Notice you don't see us in the magazines," she says. "When you're married, that's real life. And to go and plaster your kids... I'm sorry. I'm not for that."
According to Dawber, her sons still haven't seen any of the work she's done as an actress.
"I'm just their mom," she says. "They don't care about what I did. They care about what they are doing. They want their parents to care about what they are doing. Their father is already iconic enough for two boys. I am just the mom."
WATCH: Penny Marshall Opens Up About Late Brother Garry Marshall
Now that the boys are older, Dawber occasionally makes a rare TV appearance. She most recently guest starred in "The Odd Couple's" tribute episode to the late Garry Marshall, who helped give Dawber and Robin Williams their start on Mork & Mindy."
"Garry affected all of our lives," Dawber says. "Garry put us all on the map and we all had careers because of Garry. We kind of just orbited around Garry's big star."
Prior her "Odd Couple" appearance, Dawber let Williams talk her into reuniting with him on "The Crazy Ones" in 2014. She became emotional when remembering her former co-star.
"I hadn't seen Robin for 20 years," she says. "I did that episode because I wanted to be with Robin. I wanted to see Robin. That was a gift. That was such a gift."