Moms Differ Over What Behaviors MTV Shows 'Teen Mom' and '16 and Pregnant' Promote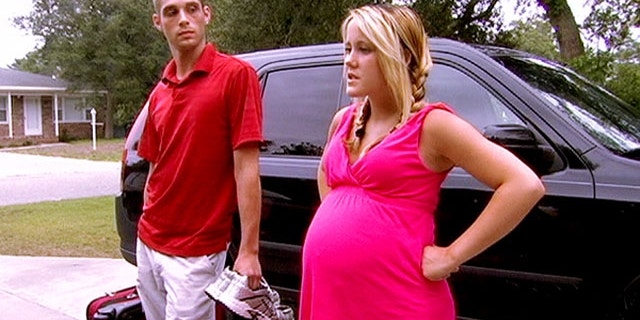 NEWYou can now listen to Fox News articles!
Since MTV began airing "16 and Pregnant" and its counterpart, "Teen Mom," in 2009, some parents have been using the programs as entry points into what can be an awkward and complicated dialogue on sexual issues.
But others think "16 and Pregnant," which kicked off its second season this week, and other shows that graphically depict teenage pregnancy aren't positive sex education teaching tools at all.
They think the shows may actually promote promiscuous sexual behavior in teens, and present a one-sided image of motherhood that may persuade young women to terminate their pregnancies.
"I found those shows so depressing that I am afraid they may encourage abortion," said Utah mom of eight (including three teenagers) Jami Quesenberry. "The one girl who responsibly decided to put her baby up for adoption, at least in the episode I watched of 'Teen Mom,' was still depressed with her decision after five months."
SLIDESHOW: Jenelle was the subject of "16 and Pregnant" Season 2's first show.
Quesenberry told Fox411 that she and most of her friends have MTV blocked in their homes, but she caught an episode online to see what all of the fuss was about.
"The other mothers [on the show] had lives that seemed stifling," she noted. "If a teen watched that show, she may decide to terminate her pregnancy rather than go through what these teens are going through. There must be a way to show moral behavior without mocking it or making it sappy."
Sabine Munshi, however, is glad the shows present a dark view of unplanned teen motherhood.
She told Fox411 that her 15 year-old daughter Malina was watching an episode of "16 and Pregnant" when she exclaimed, "It's just so depressing!"
It was a reaction Mom was happy to hear.
The two have since watched the show together and separately and always talk about the difficult topics of sex, birth control and teen pregnancy afterwards, Sabine Munshi said.
Lori Schmidt, a community relations officer in the Scottsdale, AZ fire department told FOX411 she has used the show to start conversations with her daughter Amanda, 12, about the appropriate age to get married and have a baby. Together, she and her daughter agreed that having sex too early would negatively impact Amanda's life.
The conversation has started even earlier for stay-at-home mom Natalie Hjelsvold, who watches the show with her nine-year old daughter, Ashlyn.
"Many people would think that nine is too young to be discussing pregnancy," Hjelsvold said. "However, I believe that the sooner you have age appropriate open discussions, the better your chances of instilling in your children the ability to make good choices."
The MTV series are just two of several TV shows and films in recent years to deal openly with teen pregnancy.
"We first had the conversation after I took my daughter to see the movie 'Juno'," Munshi said, referring to the critically acclaimed 2007 film about a pregnant teenager who has successfully gives her unplanned child up for adoption. "But that movie ended so easy. With the shows that are now on MTV, the situations are hard and complicated, and my daughter is right. They are depressing."
Unlike sitcoms like "Glee" and "The Secret Life of the American Teenager," which sometimes deal more humorously with the subject, the MTV reality shows are dead serious. In the first episode of this season's "16 and Pregnant," former party girl Jenelle Evans has to give up her frivolous pursuits and her deadbeat long-distance boyfriend for the good of her baby Jace. Jenelle's 12-hour labor looks excruciating. At one point she screams at her mother Barbara: "Nothing else worse can happen mom," over the top of her swollen belly.
Parenting expert and author of "35 Things Your Teen Won't Tell You, So I Will," Ellen Rittberg believes parents can benefit from the opportunities shows like "16 and Pregnant" provide to talk to their kids, because their teenagers are probably watching the show whether they like it or not.
"If you don't watch the show with your teen son or daughter, they will likely be watching it with peers or alone," Rittberg said. "If you have been skittish about talking about sex with your female teen, regard this as a chance to use a far-more interactive technique."
However, Arizona mother-of-three Toni Patterson said the show would have been more educational if it was a one-off documentary, and that presenting it as a series instead served to make celebrities out of teen moms.
"To continue to have the series is, in my opinion, going to make some teens think pregnancy and motherhood is cool, and that you could get famous from it," Patterson said. "Not the message I want to be sending my children."