'Modern Family' reveals a cast member pregnancy in new episode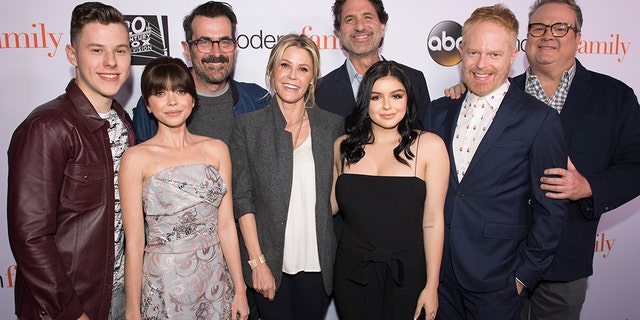 WARNING: Spoilers ahead
Just weeks after the Pritchetts lost one of their own, it seems the family has a new addition to look forward to.
Wednesday's episode of "Modern Family" saw a shocking pregnancy reveal, as Haley Dunphy (Sarah Hyland) discovered she was expecting!
The news was uncovered as Haley enjoyed a game of bumper cars with her boyfriend, Dylan (Reid Ewing), but ended up getting a tube of lipstick stuck up her nose. That sent her to the emergency room, where a nurse shared the life-changing news. But with the episode coming after Dylan went head-to-head with Haley's other love interest, Arvin (Chris Geere), it's unclear who the father is.
Sarah Hyland Cried While Watching Shocking 'Modern Family' Death Episode (Exclusive)
Hyland seemed to tease her character's fate on Instagram ahead of the episode. "Buckle up for tonight's brand new episode of @abcmodernfam guys. It's gonna be a BUMPY ride! #modernfamily @abcnetwork 9/8c pm," she wrote alongside snaps from the show.
ET recently spoke with Hyland at the No Kid Hungry event in Los Angeles last month, where she revealed that she and boyfriend Wells Adams didn't have any immediate plans to become parents -- but admitted that Modern Family was definitely teaching her a few lessons about what it's like to be a mom.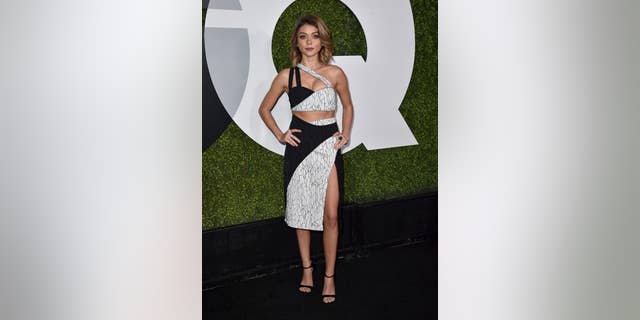 'Modern Family' Death: See Which Family Member We Lost in the Halloween Episode
"There was this scene where [I'm eating] Twizzlers [and] I don't like licorice -- it makes me want to vomit. So, we're walking up the stairs and I have to be, like, talking non-stop, eating Twizzlers. I almost threw up, like, three times," Hyland said. "And there's this scene where I'm having a lollipop and eating all of the chocolate and then spraying whipped cream into my mouth from the can, and oh my goodness, I ate my entire weight in candy -- which on a Friday night is completely normal for me to be doing while crying, watching, like, 'Bridget Jones's Diary.'"
"But when you're doing it because you have to, it takes the fun out of it and god bless Sofia [Vergara] -- I love her -- but she couldn't say this one line and I kept having the whipped cream in my mouth and had to swallow, then do it again," she added. "This is sounding weird, but I went home and was in so much pain. I was like, 'This is what adults say to you as a kid -- don't eat too much candy, it'll upset your stomach.' And, now I'm going to be that mom that's like, 'Don't eat the candy.'"
Modern Family airs on Wednesdays at 9 p.m. ET/PT on ABC. See more in the video below.
Ariel Winter Reveals 'Modern Family' Death Isn't Who You'd Think (Exclusive)