Model's Hair Catches Fire at P Diddy's Party, Fire Trucks Arrive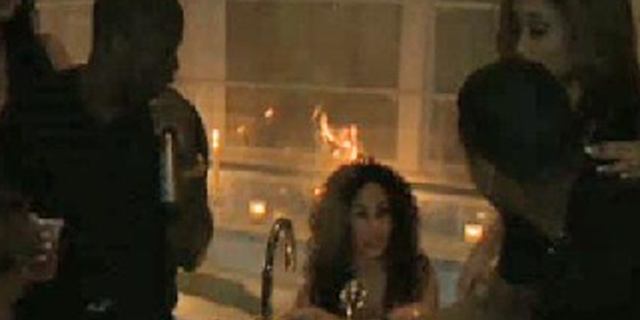 Sean "Diddy" Combs threw such a hot party in the penthouse of a Manhattan hotel that guests literally set the place on fire.
The Fire Department was called to the London NYC on West 54th Street when the mane of a gorgeous bikini-clad model frolicking in a bubble bath suddenly went up in flames Tuesday night.
According to sources, Diddy told hotel managers he'd invited 20 people to the 2,500-square-foot penthouse for a small soiree to celebrate the launch of his new album, "Last Train to Paris." But almost 200 people crammed in for the bash on the 54th floor.
Usher, Fabolous, Chris Brown, Trey Songz, Miss USA Rima Fakih and Swizz Beatz were among the stars who attended the party, which featured booze, flashing lights, dancing and scantily-clad women.
But things got scary when the model leaned back over a candle, and flames started shooting from her hair and out of the bathtub, on the edge of which Fabolous and Songz were perched. As seen in a Ustream video of the event, the panicked beauty screamed and dunked her head in the water.
"Oh, oh, oh [bleep!]" screamed Diddy's hype man, Kevin Hart, over the mike. "Did the camera catch that? Did the camera catch that?"
"Fab was the first person to see the fire," Hart says in the video. "We put it out as quick as we could, I can honestly say."
A worried-looking Diddy then appears on camera, rubbing his head frantically and asking why firefighters had been called. He later grabbed the microphone to announce, "The Fire Department just left upstairs. It's crazy, but everything is under control."
Sources said Diddy is no longer welcome back at the hotel. Asked to comment on the incident, Diddy's rep said only, "He invited a few friends to a listening session, which was Ustreamed live for his fans worldwide." The hotel declined to comment. The NYFD said it had no information on the incident.
Go to NYPost's Page 6 for more celebrity gossip.