Miss Colombia calls Miss Universe mix-up 'humiliating' but says she's moved on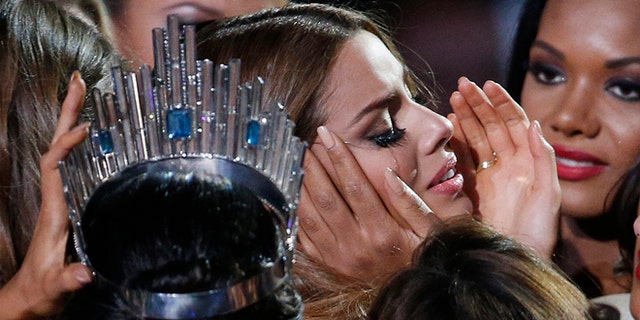 The Colombian beauty queen who was briefly crowned Miss Universe is making the best of what she calls a humiliating situation.
Ariadna Gutiérrez told Colombia's W Radio Wednesday that no one can take away the four minutes during which she wore the crown.
"It was a very big injustice. It was humiliating for me and for all people in Latin America in the auditorium," she told the Colombian outlet. "I have been disconnected, I haven't received any phone calls, just a few people have been able to contact me and it is because I needed to grieve for what happened that night."
Gutiérrez was accidentally named the winner in Las Vegas earlier this month after host Steve Harvey misread his cue cards. Harvey later announced the crown actually belonged to Miss Philippines.
Miss Colombia said the awkward moment was humbling for her and other Latinos watching the competition.
"It is been so hard for me. I had always dreamed about being Miss Universe," she said. "I dreamed to give that joy not only to my family but also to all of Colombia, but I have to continue with my life."
Gutiérrez said one of the more embarrassing things to happen after the incident on stage was the offer to appear in a pornographic film — an offer she turned down.
"The worst is the porno video," she said. "I haven't received a formal offer but I would never do it for one million dollars. For an incalculable amount. No, I am joking. I will never do it. No, my parents would kill me."
Still, Gutiérrez said she has come to terms with what happened and is moving on with her life. She is even seeing the good in it.
""As we say in Colombia, we killed two birds with one stone: I got Miss Universe and now I am free to accept all the job proposals I want," she said.
The Associated Press contributed to this report.