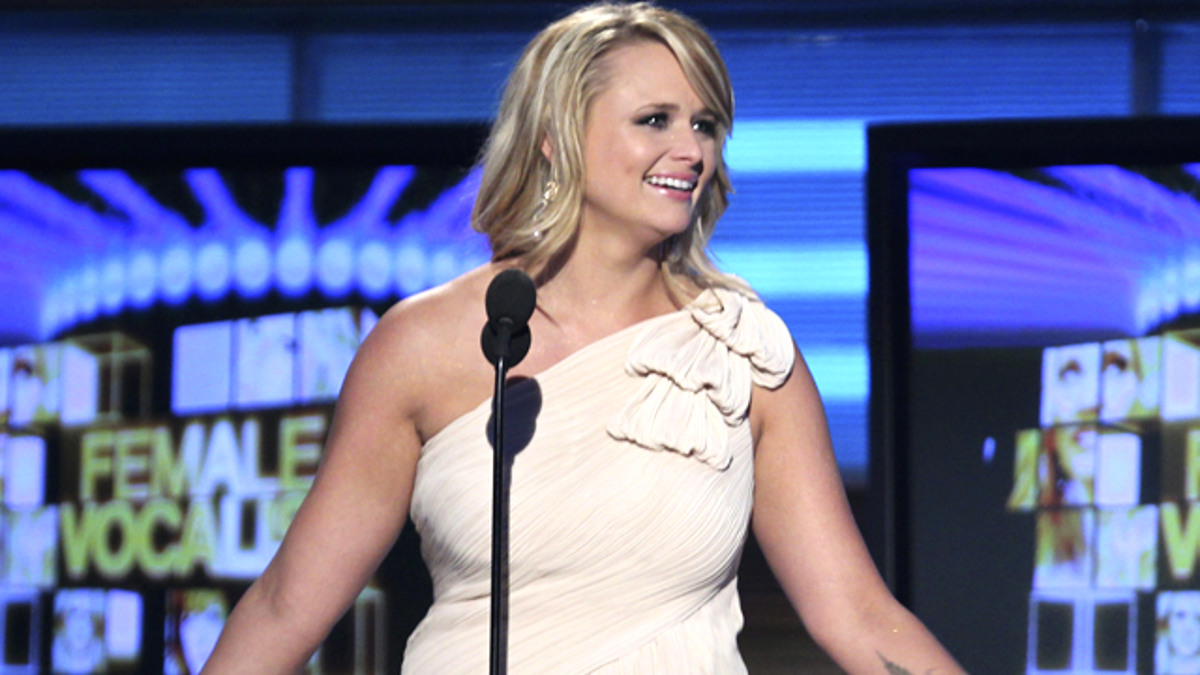 Miranda Lambert made history Wednesday morning when she was nominated for nine CMA Awards, the most for a female country music artist.
She'll be celebrating with close friends Lady Antebellum and fiance Blake Shelton. Lady A earned the second most nominations with five and Shelton was next with four, tied with Zac Brown Band.
The year 2010 is taking on fairly tale qualities for the fiery Texan, who won three Academy of Country Music Awards in March, got engaged a few months later and has much to look forward to the rest of the year.
"I don't think it gets better than this," Lambert said in a phone interview with The Associated Press. "It's been a dream and it's not even over with. I'll be sad when 2011 comes because this year has just been one blessing after another. It's just incredible. I don't know what it is about now that all this is coming to a head, but I don't care. I'm just glad it is."
Lambert and close friend Dierks Bentley announced nominations in five categories Wednesday morning on "Good Morning America." The first seven categories were announced Tuesday in Nashville.
Lambert, Lady A, Zac Brown Band, Brad Paisley and Keith Urban were nominated for entertainer of the year, the Country Music Association's top award.
Should Lambert when entertainer of the year she'll continue a girl-power trend at country music's two top awards shows. Taylor Swift became just the third female winner of the CMA's top award last year and Carrie Underwood made history in April as the first woman to win the ACM Awards' entertainer of the year twice.
Women also figure prominently in several CMA categories this year.
"It's definitely something that's been needing to happen for a long time," Lambert said. "I think it's been turning slowly but it's finally starting to show through with the girls being really strong right now in country music."
Lambert, whose last album "Revolution" was widely hailed by her peers and critics, fell just short of Alan Jackson's overall record of 10 nominations, set in 2002. Merle Haggard is the only other artist to receive nine or more nominations.
She also earned nominations for female vocalist of the year, album of the year, single of the year for both "White Liar" and "The House That Built Me," song of the year for "White Liar," musical event for "Bad Angel" with Bentley and Jamey Johnson, and video of the year for both "White Liar" and "House."
Lady A continued to ride the success of "Need You Now," the year's top-selling country album. Along with the entertainer nod, Dave Haywood, Charles Kelley and Hillary Scott received nominations for vocal group of the year, for album of the year, single of the year and music video of the year.
Zac Brown Band also is up for vocal group of the year, new artist of the year and musical event for "Can't You See" featuring Kid Rock. The Atlanta six-piece is the first act to be nominated for both entertainer and new artist in the same year since Ricky Skaggs in 1982.
Shelton is up for male vocalist of the year, and his collaboration with Trace Adkins on "Hillbilly Bone" earned him nominations for single, music event and video of the year. That means Adkins also has three nominations.
Lambert said she called Shelton shortly after reading the list of nominees. A storm knocked out his satellite reception, so he didn't know he was up for so many awards.
"I'm so excited for him I haven't had time to be excited for myself," Lambert said. "This is a long time coming for him. He's got four nominations, and male vocalist of the year is one I feel like he should've been nominated for every year and every awards show, and won, and he's never even been nominated. He is one of the most amazing male vocalists out there and I'm just glad he finally got what he deserved for a long time."
Paisley moved into No. 3 on the CMA's list of career nominations with three nods, including music video of the year and male vocalist, which he's won three consecutive times. Paisley has been nominated every year since 2000 and has 52 career nods. Only George Strait (81, including two this year) and Alan Jackson (79) have more.
Bentley also has three nominations with nods for male vocalist of the year, album of the year for "Up On The Ridge" and the "Bad Angel" collaboration.
The CMA Awards show will be aired on Nov. 10 in Nashville.