Miranda Lambert and boyfriend sing 'My Girl' together onstage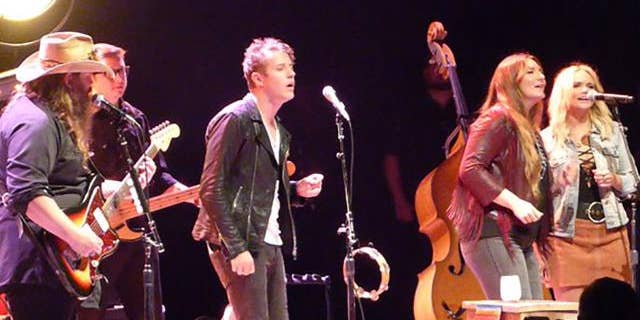 NEWYou can now listen to Fox News articles!
Miranda Lambert and her boyfriend, Anderson East, gave a very public display of afection on Wednesday night at the Chris Stapleton concert. East was performing with Stapleton at The Greek in Los Angeles, when the "Tennessee Whiskey" headliner insisted that Lambert join them onstage for a rendition of "My Girl."
RELATED: Miranda Lambert Makes Her Red Carpet Debut With Boyfriend Anderson East at ACM Awards
The sweet moment was documented by lots of fans in the audience as East took the lead vocals and Lambert and Stapleton's wife, Morgane Stapleton, happily sang backup.
This isn't the first time the musically blessed couple has performed together. On Valentine's Day, Lambert surprised her beau's audience in Northampton, Massachusetts for a duet cover of Mariah Carey's "Always Be My Baby."
Lambert and East started dating late last year after her divorce from Blake Shelton. Shelton moved on to his fellow Voice judge and girlfriend, Gwen Stefani.
MORE: Blake Shelton Opens Up About 'Very Personal' Duet With Gwen Stefani
Shelton and Stefani have also collaborated on new music. In addition to being each other's muses for their respective new albums, the pair also teamed up for the duet "Go Ahead and Break My Heart" on Shelton's upcoming album.
"[The song] is very personal for us both because, you know, we obviously have this bond that is remarkable together," Shelton previously told ET. "But the fact that we wrote a song together... I know that I don't co-write that much because I'm very insecure about it I guess and [Gwen's] kind of got her circle of people that she writes with. But for us to reach out to each other as writers, it may never happen again, who knows."