Miley Cyrus topless and tongue out for Rolling Stone, talks about America's 'weird' morals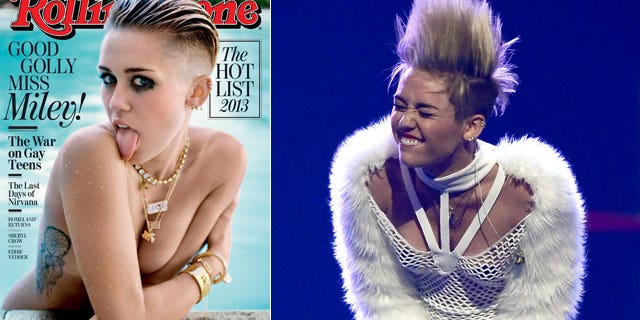 Miley Cyrus doesn't have much left to bare! The "Wrecking Ball" singer covers the latest issue of Rolling Stone magazine and poses with her trademark tongue-wagging, but sans the clothes.
RELATED PICS: Most Memorable (Sexiest) Stage Styles
The 20-year-old singer seems pretty self-aware in her interview with the music magazine, saying after her highly criticized, highly sexual MTV Video Music Awards performance, "I think it's an important time not to Google myself."
That being said, Cyrus adds that she could have been even more vulgar at the VMA show. "Honestly, that was our MTV version... I didn't expect it to become such a controversy. I thought that's what the VMAs were all about! It's not the Grammys or the Oscars. You're not supposed to show up in a gown, Vanna White-style. It's supposed to be fun!"
The former "Hannah Montana" star also reveals that Kanye West gave her a pep talk prior to going onstage. "He came in and goes, 'There are not a lot of artists I believe in more than you right now.' The whole room went quiet. I was like, 'Yo – can you say that again?!' And then he gave a speech and told the entire room how much he believes in me. I just kept repeating that over and over in my mind, and it made me not nervous."
RELATED: Miley Gets Naked For 'Bangerz'
While West has ruined MTV awards show moments for Taylor Swift, he's done quite the opposite for Cyrus. She tells Rolling Stone, "Kanye is the sh**. I kind of have a good relationship with him now. It's good to have someone you can call and be like, 'Yo, do you think I should wear this?' 'Do you think I should go in the studio with this guy?' Do you think this is cool?' That's what homies are supposed to do."
Adding of America's morals, the "We Can't Stop" singer says, "America is just so weird in what they think is right and wrong. Like, I was watching "Breaking Bad" the other day, and they were cooking meth. I could literally cook meth because of that show. It's a how-to. And then they bleeped out the word 'f**k.' And I'm like, really? They killed a guy, and disintegrated his body in acid, but you're not allowed to say 'f**k'? It's like when they bleeped 'molly' at the VMAs. Look what I'm doing up here right now, and you're going bleep out 'molly'? Whatever."