Michelle Rodriguez recalls original 'Fast and Furious' ahead of 15th anniversary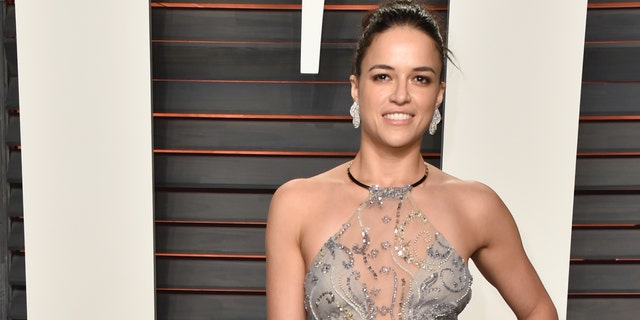 Michelle Rodriguez became a household name at the age of 22 when she geared up for "The Fast and The Furious" – the first installment of a movie franchise that only seems to grow in popularity with each installment.
With the 15th anniversary of the original's release approaching, the Latina beauty – who starred opposite Vin Diesel and the late Paul Walker as Letty – described the movie as a "time capsule" and talked about what it was like getting into character.
"She was a character that needed a lot of work. And, you know, I get it. It's a male-dominated industry, action films. I kind of understood when they didn't understand what a strong independent woman would be like," she told Entertainment Weekly.
Rodriguez said she worked really hard to make sure people didn't see her as "some sort of floozy" while working with so many guys on the film. However, she definitely bumped heads with Diesel at first.
"I recall us trying to shoot the sexy scene. I was already amped up on my femininity, from having the first battle of not being a slut who gets with the Brian character. So when he grabs my ass and picks me up in that garage – which is one of the most epic scenes, the girls go crazy when they see that – I flipped out on him," she said.
Their relationship onscreen and friendship off-screen solidified over the past 15 years.
"He respects strong women. Instead of, 'I can't deal with this girl! Get her out of here! Fire her! Get me a new one!' He was very open. He actually laughed about it and was really sweet. And eventually we warmed up to each other, and we were really cool and incredibly comfortable around one another," she said.
As for Walker, who died in 2014 car crash just before filming for "Furious 7" ended, Rodriguez said it's definitely hard looking back at the franchise since he died.
"It's one of those things where you can never, as long as you live, replace that. What [Walker] embodied in one persona is almost impossible to find out there. He had a swagger to him. He wasn't just another Caucasian male. He had some something that united him to the streets, that made him a little bit edgier than everybody else," she said.
To commemorate the first film's anniversary, Universal Pictures announced Wednesday that it will bring back "The Fast and the Furious" to theaters for a brief run. Tickets are not yet on sale for the June 22 re-release.
The 2001 film was a big box office success, earning over $200 million worldwide, but no one at the time could have imagined the franchise's longevity.
The most recent installment, 2015's "Furious 7," earned over $1.5 billion globally. No. 8 film is in production for a 2017 release, with 9 and 10 scheduled through 2021.
The Associated Press contributed to this report.