Michelle Obama Wears Jason Wu One-Shoulder Gown to Inaugural Balls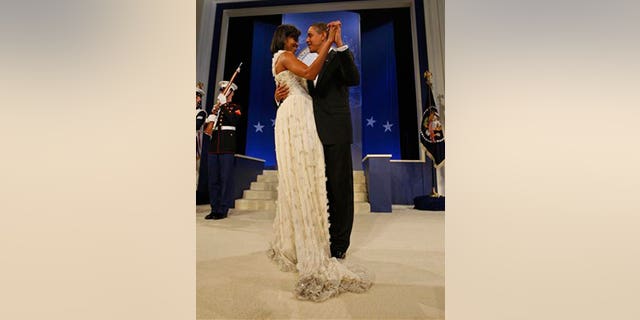 WASHINGTON – First lady Michelle Obama celebrated her husband's inauguration Tuesday night wearing a white chiffon, one-shoulder gown covered in fluffy appliques and beading that will now become part of fashion history.
Designed by 26-year-old Jason Wu, much loved in the fashion world but otherwise not well known, the gathered-skirt gown was surprising for its reserve given Michelle Obama's love of jewel tones and sleek silhouettes. Yet it was unconventional too, exposing her much-remarked-upon, well-toned arms.
The gown's slight train swirled pleasingly and her shoulder-sweeping earrings picked up the gown's sparkle as she and President Barack Obama danced the evening's first dance at the Neighborhood Ball at Washington's Convention Center.
"First of all, how good-looking is my wife?" the president asked a cheering crowd.
The gown will be donated to the Smithsonian, according to tradition, the first lady's spokeswoman said.
Jill Biden, wife of Vice President Joe Biden, wore a red strapless gown.
President Obama wore a white bow tie with a single-vent, notch-collar tuxedo and an American flag pinned to its lapel.
The fashion industry has anxiously looked to the election of President Obama for months, embracing his wife as an emblem and ambassador of modern style, who wears clothes from young designers as well as mainstream American retailers.
Earlier in the day, Michelle Obama won applause from style-watchers for the sparkling yellow sheath dress with matching coat by Cuban-born American designer Isabel Toledo that she wore to the swearing-in and parade.
The lemongrass-colored dress was applauded as a cheerful message of hope and a vote for the American fashion industry. In some light, the embellished ensemble took on a pale greenish cast, coordinating nicely with green gloves from J. Crew and Jimmy Choo green patent pumps.
The Obama daughters were style icons in their own right, with Malia, 10, in a double-breasted periwinkle-blue coat with a blue-ribbon bow at the waist, and Sasha, 7, in a pink coat with orange scarf and satin belt, a coral-colored dress peeking out at the hem. Their coats were from Crewcuts by J. Crew.
Wu, who has only shown a collection since 2006, and Toledo, who had a short stint at Anne Klein but is considered relatively avant-garde, are exactly the kinds of designer Obama gravitates toward.
"There is nothing that comes close to this moment," Toledo said, speaking in New York. "It's not just my moment and hers, but it's the world's...It's not only what she's wearing. It's what the moment represents."
Toledo said she chose the lemongrass color for the optimism it represents.
"I didn't want a traditional blue or red," she said. "That color has sunshine in it. I fell in love with it. So did she."
That unusual shade of yellow "really popped" on Michelle Obama's complexion, said fashion designer Kai Milla, wife of Stevie Wonder and an invited guest to the swearing-in ceremony.
"What I recognized more than anything from our new first lady and Hillary (Clinton) and everyone else is that everyone was fresh," she said.
The overall day-look was largely a hit.
"She's off to an auspicious start," said Hamish Bowles, Vogue magazine's European editor-at-large who curated the Metropolitan Museum Costume Institute exhibit on Jackie Kennedy in 2001.
"Mrs. Obama's choice today was appropriate, dignified and elegant, but it also had a considerable element of fashion panache," he added. "She's finding great American talent."