Meryl Streep posters claiming 'she knew' about Harvey Weinstein pop up in Los Angeles
A street artist is hitting back at Meryl Streep.
Posters popped up in Los Angeles on Tuesday featuring a photograph of Streep next to Harvey Weinstein with a red banner and the words "She Knew," placed across the actress' eyes — contradicting the Hollywood star who insists she didn't know about the fallen movie mogul's alleged sexual misconduct.
Several photos of the posters plastered in various spots, including outside of Streep's home and the SAG-AFTRA building, surfaced on social media. The artist has not been identified.
The posters appeared a day after Steep released a statement saying she "did not know about Weinstein's crimes" in the decades she has known the producer.
"I wasn't deliberately silent. I didn't know. I don't tacitly approve of rape. I didn't know. I don't like young women being assaulted. I didn't know this was happening," Streep said in a statement to Fox News.
The 68-year-old actress' statement was in response to Rose McGowan's criticism of Streep and other women who would be wearing black to the upcoming Golden Globes as a silent protest against sexual misconduct in the industry.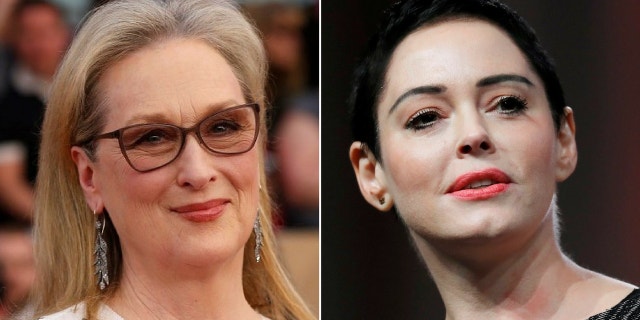 "Actresses, like Meryl Streep, who happily worked for The Pig Monster, are wearing black @GoldenGlobes in a silent protest," McGowan said in a now-deleted tweet. "YOUR SILENCE is THE problem. You'll accept a fake award breathlessly & affect no real change. I despise your hypocrisy. Maybe you should all wear Marchesa," the fashion line of Weinstein's ex-wife, Georgina Chapman.
Streep said she was "hurt to be attacked" by McGowan, who has been vocal about Weinstein's alleged sexual misconduct. The actress said she did not know about Weinstein's alleged attack on McGowan in the '90s.
Streep explained that her relationship with Weinstein over the years was strictly business and that he had never accosted or harassed her.
"HW was not a filmmaker; he was often a producer, primarily a marketer of films made by other people--some of them great, some not great," she said.
"But not every actor, actress, and director who made films that HW distributed knew he abused women, or that he raped Rose in the 90s, other women before and others after, until they told us. We did not know that womens' silence was purchased by him and his enablers," Streep added.