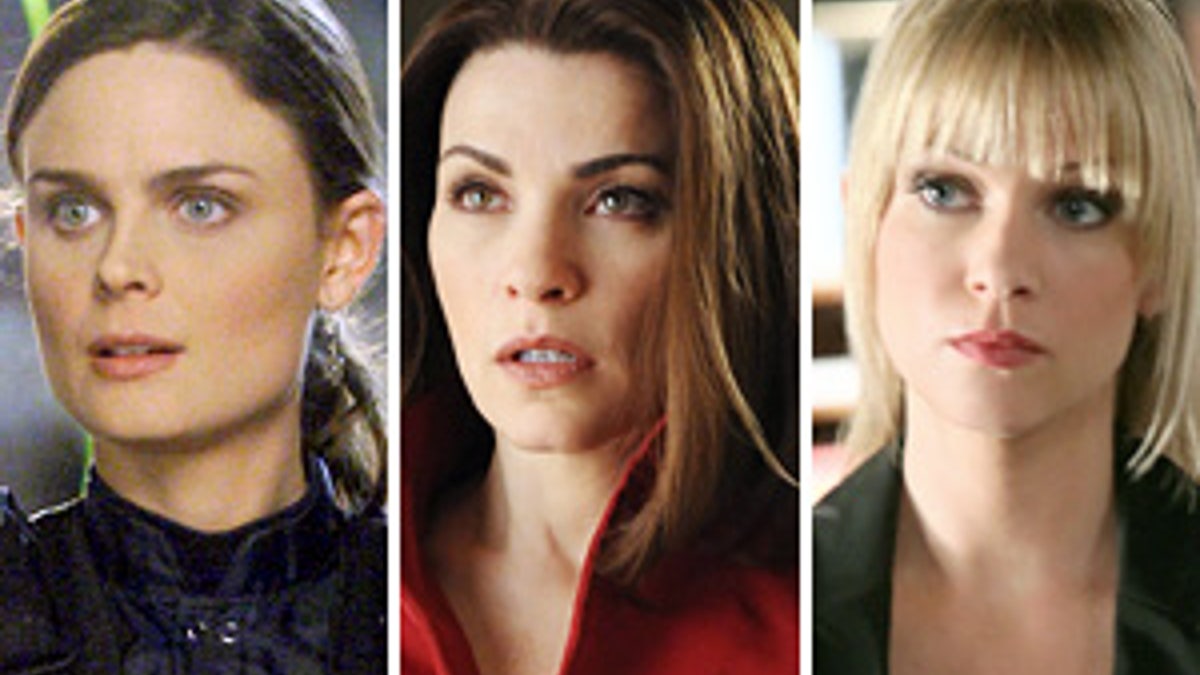 Every week, senior editors Mickey O'Connor and Adam Bryant satisfy your need for TV scoop. Please send all questions to mega_scoop@tvguide.com.
Got any more scoop on Bones' new season? — Andrea
ADAM: We hear the show is looking to add a Bill Nye the Science Guy type to woo Brennan... to appear as a guest on his popular children's TV show. Bones brushes off the request because she doesn't see him as a serious scientist. But when he persists, Brennan makes him a deal: She'll do his show if he can help her solve a murder.
I can't wait for the The Good Wife to come back. Do you know who Alicia picks? — Deborah
MICKEY: Season 2 picks up right where Season 1 left off, with Alicia deciding between standing by her man and answering that fateful phone call. She doesn't take Will's call, thanks to Eli Gold, and Julianna Margulies tells us that Will and Alicia will be like "two ships in the night" for a while. But that doesn't mean that she's back together with Peter either — though she's definitely with him. It seems that seeing his feisty wife in the courtroom makes Peter want to debrief her.
How will Criminal Minds resolve last season's cliff-hanger? — Marcus
ADAM: The season premiere finds the team in what executive producer Ed Bernero calls a "rolling hostage situation," during which an unexpected member of the team will be called upon to make contact with Tim Curry's creepy killer in an unorthodox way. "The solution rests on whether or not that team member can convince this psychopath to spare the little girl he's taken," Bernero says, adding that "another team member will be affected for a long, long time by what happens."
What exactly will Vanessa Williams be up to on Desperate Housewives this season? — P.K.D.
MICKEY: It seems she'll be taking one for the team. We're hearing that a handsome professional baseball player with some ethical issues will romance one of the Wisteria ladies. Wanna make a bet he'll be rounding the bases with the erstwhile Willi?
I need some CSI: Miami scoop, pronto! — Brett
ADAM: The team will investigate a kidnapping early in Season 9 with the help of a witness. The bad news: He's blind. Look for him and Natalia, who is hearing impaired, to form a special bond. Also: Two perps from the show's past will turn up again — one in prison, and one back on the streets.
Is Chuck grooming Alex to be a mini-spy? — Ben
MICKEY: It's no accident that producers have shown us that Casey's daughter has some serious combat skills. "It's a spy show, so I think she's going to be on some missions," reports Adam Baldwin, who plays Alex's proud papa.
So excited for the Private Practice wedding. Anything else cool coming up? — Jenna
ADAM: Stop me if you've heard this one before: A merger is coming. With William gone, Naomi will decide to join Pacific Wellcare Group with Oceanside Wellness Center. In contrast to the unholy union of Seattle Grace and Mercy West on Grey's Anatomy, however, this merger is agreeable to all parties. (They do already share a roof, after all.)
Is Barney back to his old self now on How I Met Your Mother? — Kingsley
MICKEY: Neil Patrick Harris says that while Barney searches for his dad, he won't lack female companionship. (Actually, he used much more colorful language, but you get the idea.) Might he birthday-suit up for Zoey, a civic-minded activist who is protesting the destruction of a New York hotel? No. She'll tangle with Ted, since he's the guy who's leveling the historic gem.
How will Smallville deal with having less Chloe this season? — Greg D.
ADAM: As we previously reported, Chloe will give herself up in a trade to save Oliver, who was taken in the season finale. That will keep Chloe off-screen and give Oliver lots to do as he searches for her. Or will it? "Hunting [for her] may not really be a good thing He's got to weigh that decision," executive producer Brian Peterson tells us. Adds fellow EP Kelly Souders: "Giving up is maybe not quite the way he would look at it, but letting go might be part of his scenario."
I love The Big C, but I think it's sad that Cathy and her husband are apart. Will they ever reconcile? Laura Linney and Oliver Platt are so great together. — Hilary
MICKEY: Well, they don't have to be together to be great together, do they? In fact, the couple's fumbling romantic estrangement is the source of much of the upcoming comedy. A particularly hilarious misunderstanding occurs when Cathy says she'd like to have sex in the grass.
What's coming up on Lie to Me? — Sarah
ADAM: Sounds like the show is cooking up quite a season-ender, thanks in no small part to assurances from the network that it will be back. "We put some characters in jeopardy," outgoing executive producer Shawn Ryan says. "We really tried to end the season as a launching pad for Season 3. It's not a Dynasty-esque cliff-hanger, where there's bloody people on the floor... but there are some pretty high stakes."
Life Unexpected? Anything? — Tamara
MICKEY: Britt Robertson tells us that there will no more running away for Lux; Season 2 will find her much more settled with her birth parents. "No matter what people did, Lux always felt rejected," she says. "That's something she has now overcome." Good thing too, because her love life is going to get a lot more complicated. Forget Jones vs. Bug: There's a new surly musician in town, and he's like catnip to our be-hatted heroine.
Mickey's Mega Rave: The Big C's Cathy Jamison (Laura Linney) is a great addition to Showtime's stable of feisty females. Terminally ill Cathy's poignant quest to make every moment count is buoyed by another C word: comedy.
Adam's Mini Rant: You know what might make Big Brother's Saboteur twist interesting? Malevolence! Get your hands dirty, Ragan!
(Additional reporting by Natalie Abrams and Kate Stanhope)
Crave scoop on your favorite TV shows? E-mail Mickey and Adam at mega_scoop@tvguide.com or drop us a line at Twitter.com/TVGuide.
View original Mega Buzz: Bones' TV Gig, The Good Wife's Triangle and Criminal Minds' Hostages at TVGuide.com