Matt Lauer 'freaked out' by 'Today' fans yelling at him on the street, report says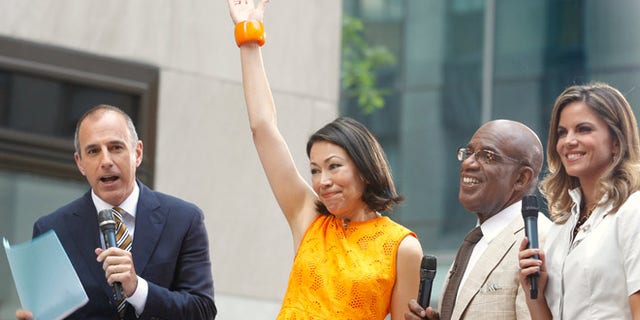 NEWYou can now listen to Fox News articles!
Things have gotten so bad for "Today" host Matt Lauer, people are yelling at him on the streets of New York City, TMZ reports.
Network sources tell the website Lauer has been getting constant verbal abuse by total strangers screaming things like "You're a bad guy" and "You got Ann fired. Does that make you happy?"
Lauer's co-host Ann Curry was rushed from her seat on the "Today" couch and on to a new position with NBC news earlier this year, with many blaming Lauer for the abrupt move. Curry was so distraught she cried on air on her final day.
Lauer is "freaked out" by the treatment he's receiving and feels "miserable" and "abused," TMZ reports.
"It's driving him crazy. He's so unhappy," one source said.
A "Today" insider told FOX411 in October that the fallout from Curry's ouster had staffers splitting into two camps: Team Matt or Team Ann.
"No one is at fault here," the source went to great pains to point out. "But things over there are not good, and this was the natural progression that happened. There are the people that love Ann because she's so sweet and loyal and gives it her all. There are the people that adore Matt because he's done so much for so many people."
Staffers understood the need for a new host, but some turned on Lauer when it was rumored he played a role in her ouster, the source said. The show's subsequent fall form its years-long perch on top of the morning show heap to the No.2 slot behind "Good Morning America" exacerbated the schism. The heat Lauer took over his interview of Hollywood golden girl Ann Hathaway, mentioning her unfortunate wardrobe malfunction at a "Les Miserables" premiere, drew further condemnation.
"We've seen a lot of you lately," Lauer quipped as he opened the segment with the actress, who was there to talk about her performance in the movie.
"It was obviously an unfortunate incident," she continued. "It kind of made me sad on two accounts. One was that I was very sad that we live in an age when someone takes a picture of another person in a vulnerable moment and rather than delete it--and do the decent thing--sells it. And I'm sorry that we live in a culture that commodifies sexuality of unwilling participants."
"Props to Anne Hathaway for standing up to Matt Lauer and his inappropriate line of questioning," one watcher wrote on Twitter.
"Who treats Anne Hathaway like that??? She's a lady. She [should have] slapped Matt Lauer…" another fumed.