Martina McBride, RaeLynn and Cassadee Pope support Women in Country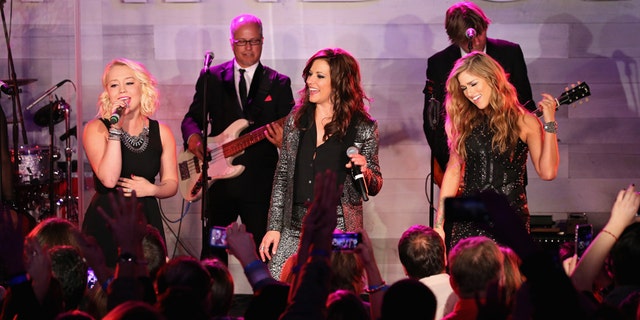 NEWYou can now listen to Fox News articles!
NEW YORK – Martina McBride was joined by fellow singers Cassadee Pope and RaeLynn to support female artists at Pandora's Women in Country night in New York City Wednesday. While all three singers had reasons to celebrate, it was RaeLynn who had the biggest news of the evening.
"I just engaged the day before yesterday," the 21-year-old gushed. "Oh my God I absolutely had a heart attack."
The "For A Boy" singer said her fiancé Josh Davis told her to get "dressed up for dinner for his new job" but when she went downstairs to meet him, she found the first of four clues that lead to different places that were significant to the couple.
"The last place was the first place he kissed me and he was sitting there waiting with a box," she recalled. "Oh my God I thought I was going to cry and bawl like a baby, but I couldn't. I was just like, 'Is this real life? Is that ring real?'"
RaeLynn wasn't the only singer present with reason to celebrate; Fellow "Voice" alum from Blake Shelton's team on the show Cassadee Pope just released her latest single, "I Am Invincible."
"The message I wanted to send my fans and to people in general is to feel empowered and be confident and not apologize for who you are and 'I Am Invincible' does that really well," Pope told FOX411 Country.
McBride also shared her plans for new music.
"I'm working on my new album which hopefully will be out early next year," McBride told us. "I'm really excited. I think it kind of goes back to the sound of 'Evolution' or 'Wild Angels' back then when it was about real songs and songs about real life…it's very rootsy and organic and I love it so far."
McBride also commented on the state of female artists in country music today.
"I think it's an issue. I don't think there's a lack of female country artists, I think there's a lack of female country artists getting played on mainstream country radio right now," she explained. "There are a lot of females making great music out there…I think it's cyclical and I think it'll come back."
More from FOX411 Country: Maddie & Tae: Girls and country songs