Martina McBride Gets 'Reckless,' Reveals the One Food She Can Never Resist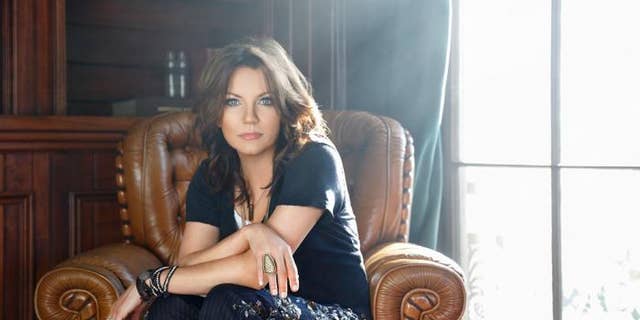 NEWYou can now listen to Fox News articles!
Martina McBride has a few reasons to feel reckless these days.
The 49-year-old singer/songwriter (and four-time CMA Female Vocalist of the Year) is back with her 13th studio album "Reckless," which goes back to her signature country pop roots since exploring classic R&B on "Everlasting" in 2014. "Reckless," which is also McBride's first album for the Nash Icon label, features the same powerful melodies that earned this country queen her crown, all while exploring the universal themes of love, hope, and coming home. One single in particular, "Just Around the Corner," has even become the official anthem for Band Against Cancer, a cancer-awareness initiative that connects people with the resources and support they need to fight back.
And while this brunette beauty is all about her reckless new music these days, she's very no-nonsense in another realm she reigns supreme — her family kitchen. McBride, who published her very own cookbook "Around the Table" in 2014, is still happily sharing her tips for preparing mouthwatering grub from the comfort of home.
Fox News Magazine spoke exclusive with McBride about her new album, teaming up with fellow hit-maker Keith Urban (again), and the one food she can never resist.
FNM: How is "Reckless" different from anything else you've recorded?
MM: I feel like it's just a really great collection of songs, not that I haven't had those before, but there's something special about this record and the songwriting process. I feel like these songs are part of a record I would have made 10 years ago or, 15 years ago, but they're also fresh at the same time.
"Reckless" is your first album of new material since 2011's "Eleven." What took so long?
Well, I made a [cover] record in the meantime called "Everlasting," and I just wanted to do that record. We toured for that record for two years and I just enjoyed it thoroughly, along with the experience it gave me. I think I just needed to step away and do something that wasn't necessarily aimed at country music radio, but was more of a side project. It's something I've always wanted to do.
In the music video for "Reckless," you actually cut your own hair, which is something most of us wouldn't dream of attempting. What compelled you to take matters into your own hands?
I actually just cut one piece and had a professional do the rest. I just feel like we were trying to convey peeling back layers and getting to renewal, so people can get to see the real you. It was basically about starting over and having a fresh start.
In one interview, you've mentioned how these new songs felt like "coming home" to you. What did you mean by that?
This was the first country album I made in five years, and it was music that I just felt so connected to. Singing covers was great. I love doing covers, but there's something about having original material that you can make your own and bring to life, from the moment of conception all the way to the finished product. It was a really special moment for me and a different process than making a cover album.
You're one of the most successful artists in country music. What keeps inspiring you?
I'm inspired by lots of things. It can be something as simple as the things I see in everyday life, new music I listen to, art I see for the first time, new films, and the people that I run into. You just have to look for inspiration everywhere.
Which was the most personal song for you to record?
This album in itself was very personal for me. It talks about unconditional love, the one I feel for my husband. For example, "Just around the Corner" is about finding hope. "Diamonds" is for my girls, to remind them that it's OK not to be perfect, that they're strong and beautiful as they are.
Speaking of your husband, what's the secret behind your lasting marriage?
A lot of things. For starters, he's a very good person, so I got lucky in that respect. We respect each other, like each other as well as love each other. Our careers also complement each other so we've been able to work together.
Going back to your song "Diamonds," what was it like working with Keith Urban?
It was great! I love working with Keith and the sound that we create together. We've sang together before. He was actually on a song of mind called "Trying to Find a Reason" on the album "Waking up Laughing." I just love what he brings to music. He delivers a lot of soul and heart. His voice is also just so recognizable. I just love our blend and I think we just sound really good together.
Looking back at your career, what would you say has been the most important lesson you've learned as a woman in country music?
I think you need to follow your heart and your instincts. You need to stand out and not try to follow the crowd or make music that you think will be accepted by people. You just need to make music that you love.
When your daughters were growing up, you purposely cut back on touring so they can have a more normal upbringing. Now that they're older and have a better understanding, how do they feel about your music career?
They're so supportive and so sweet. They always weigh in on my music. When I'm choosing a song, I always run it by them and go, "Well, what do you think of this?" They're much more involved and aware of my music now, but they're also so supportive of what I do.
Back in 2014, you published a cookbook. What are some dishes or ingredients we will always find in your kitchen?
I always have really good olive oil, a great salt, good butter, pasta, tomato sauce, garlic, and onions. I feel like with those ingredients you can whip up a nice meal.
And what about dishes or ingredients we would never find in your kitchen?
Probably seafood. I grew up in Kansas. Sharon, to be exact. I wasn't really exposed to a lot of exotic seafood, so as you can imagine, I don't really cook a lot of that.
Any advice on hosting a perfect summer BBQ?
My secret, well it's not really secret, but you have to just plan ahead. I make a lot of lists in preparation. The most important thing to remember is that your guests need to be relaxed and enjoying themselves, and you need to have fun. If you're feeling comfortable, they will, too. It all starts with the host: You set the vibe for the party. If you're stressed out, everyone's going to be stressed out. Plan ahead and go with the event. Enjoy yourself.
What's one BBQ dish that will always have you coming back for seconds?
Definitely baked beans. I love them.