Maroon 5 reportedly playing at Super Bowl LIII Halftime Show upsets social media users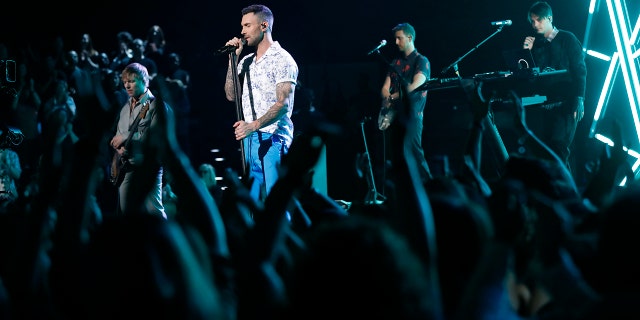 Social media users expressed their disappointment after reports on Wednesday that Maroon 5 will headline the 2019 Super Bowl LIII Halftime Show.
The band, led by "The Voice" coach Adam Levine, was apparently tapped to perform at the coveted show. Billboard reported that rappers Travis Scott and Cardi B will make special guest appearances. Last year, Justin Timberlake performed at the show.
The NFL has not officially announced who will perform at the Feb. 3, 2019 megaevent.
MAROON 5 REPORTEDLY SET TO PLAY THE SUPER BOWL LIII HALFTIME SHOW

"It's a Super Bowl tradition to speculate about the performers for the Pepsi Halftime Show," the NFL said in a statement. "We are continuing to work with Pepsi on our plans but do not have any announcements to make on what will be another epic show."
Levine reportedly expressed his interest in performing at the Super Bowl during an interview with Howard Stern in 2015.
Some social media users, however, were not excited about the rumored selection, saying the NFL should pick an artist from Atlanta, where the Super Bowl will be held.
"Atlanta, home of Outkast, T.I., Future, Ludacris, Usher, etc., gets Maroon 5 to play the damn Super Bowl," one person tweeted.
"A brief list of musicians more fitting for Atlanta's Super Bowl than Maroon 5," a social media user tweeted with a picture of a wrestler holding a long sheet of paper.
"With Atlanta's amazing hip-hop and R&B heritage the NFL goes with Maroon 5 for the Super Bowl halftime show. [Variety reporting]. Lame," another person tweeted.
"Picking Maroon 5 to do the Super Bowl Halftime Show in Atlanta is like going to Olive Garden in Italy," a social media user wrote.
The band has not immediately commented on the reports.
Fox News' Tyler McCarthy contributed to this report.