Mariah Carey Dishes on Nicki Minaj Feud Days Before 'American Idol' Debut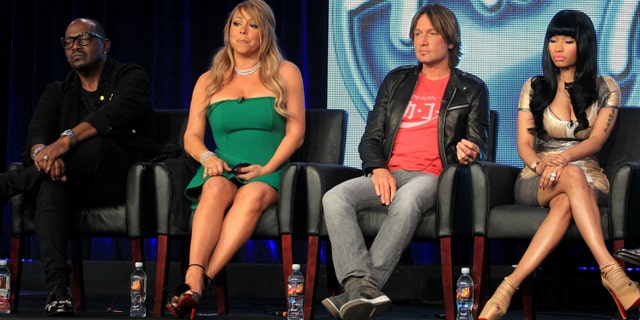 Mariah Carey is letting the world know her opinion about the feud that went down between her and rap star Nicki Minaj in October during the Charlotte, North Carolina auditions of "American Idol."
In an interview with ABC News' Barbara Walters, Carey discussed the TMZ video of the "Idol" auditions where Minaj stands up to Carey's "highness."
"I told them I'm not f*ckin' putting up with her f**kin' highness over there," a seething Minaj says in the clip.
"I'm gonna knock you out," adds the "Starships" singer.
Carey said she did not want to take any chances.
"Anytime anybody is reeling threats at somebody, you know that's just not appropriate," said Carey. "It felt like an unsafe work environment."
"Sitting there on the road with two babies I'm not going to take any chances," she added. "So yes I did hire more security."
Nicki Minaj declined to comment on the incident but has reportedly made nice with Carey since the argument.
Still, the "Va va Voom" singer said the story of an alleged feud with Carey is a "fabrication." A rep told Walters that Minaj "said what she is saying on this topic."
Carey also discussed her massive paycheck, $18 million to be exact, that she negotiated with "Idol" producers.
"I think we are in the ballpark," said Carey about her salary on "American Idol" but then quickly voiced her discomfort with talking it.
The Fox singing competition is kicking off its 12th season next Thursday, Jan. 16.
The part Venezuelan singer also opened up to Walters on her twins, her marriage with actor and businessman Nick Cannon and how the couple renews their vows every year.
"I mean seriously Barbara. Who would do that?" Carey said. He's just as festive as I am. I am very, very festive. And he kinda sort of trumps me there," she said when telling Walters about renewing her vows this past year at the top of the Eiffel Tower in Paris.
"Look I'm doing this show, its fun. But, it's not my life," Carey told Walters.
"For me ultimately this is about the contestants. I've been blessed to live my dream for more than half my life, so I want to help give that back to someone else."
Follow us on twitter.com/foxnewslatino
Like us at facebook.com/foxnewslatino