Marc Anthony & JLO Feud Over BoyToy; Casper Smart Calls JLO "Sex Mad"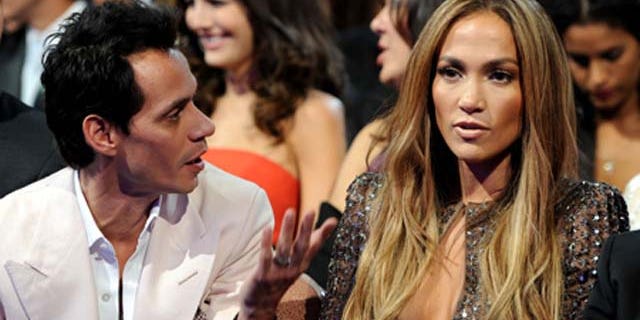 Marc Anthony and Jennifer Lopez are like dogs and cats lately.
Rumors are swirling that the salsa icon no longer wants to continue filming scenes of "Q'Viva The Chosen" with ex wife JLO because she's always with her new boy, backup dancer Casper Smart.
Star Magazine reports that things are quite awkward at the moment between Marc and Lopez.
"Marc and J.Lo had a tense conference call while she was in Morocco," a source told the gossip publication.
"Inevitably, the discussion boiled down to her new boyfriend and Marc made the decision not to work with Jennifer last week as a result."
The magazine says that someone in Anthony's camp came forth stating that Marc is considering quitting his partnership on "Q'Viva The Chosen" with JLO all together.
"It's his Latin pride," the source told Star. "It's been severely dented."
Meanwhile, while JLO paraded on a Uruguayan beach with her new man Casper Smart, she took a shot at dancing Capoeria after checking out the local talent for "Q'Viva The Chosen."
The star sported a red tank exposing her fit bod, capris and sunglasses. Smart, 24, is one to know about JLO's, uh, assets and great shape.
MTVUK.com reports that Casper said Lopez is "mad about sex."
A close friend of Casper's told The Sun: "Casper said J.Lo has an amazing body and she's in better shape than any other girl he's ever been with."
Seems like that bad boy likes to kiss and tell.
"It's just about sex — and no one's sure if it has much of a future," said the quote in The Sun. "But he's having a good time finding out."
This friend adds that Casper reassures that JLO has "the body of a 20-year-old."
The website got in touch with someone close to Lopez who described her bond with Smart as a "fun fling."
You can reach Alexandra Gratereaux at: Alexandra.Gratereaux@foxnewslatino.com or via Twitter: @GalexLatino
Follow us on twitter.com/foxnewslatino
Like us at facebook.com/foxnewslatino