Man accused of destroying Trump's Hollywood Walk of Fame star charged with vandalism
The man who allegedly smashed President Trump's star on the Hollywood Walk of Fame in California was charged with vandalism on Monday.
Austin Clay, 24, of Glendale, destroyed Trump's star on the iconic Hollywood Boulevard last month and was charged with one count of felony vandalism, the Los Angeles County District Attorney's Office announced.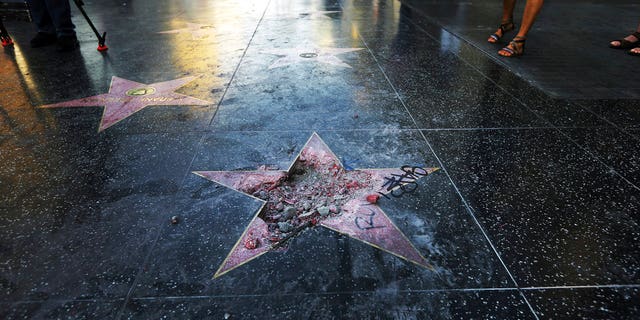 Clay used a pickaxe on July 25 to smash the president's star, which he received in January 2007 for his work as the creator and host of NBC's "The Apprentice," police said.
After allegedly smashing the star, Clay "called police and advised he had vandalized Donald Trump's star and basically called on himself and said, 'See you soon,'" Lt. Karen Leong, of the LAPD, told the Los Angeles Times.
He reportedly turned himself in at the Beverly Hills Police Department an hour later, where LAPD officers picked him up to take him into custody.
Clay faces a maximum sentence of three years in jail if convicted. He was initially booked on suspicion of felony vandalism and his bail was set at $20,000.
James Otis, the man who allegedly smashed Trump's star days before the 2016 election day, told TMZ last month he was going to cover Clay's bail and planned to meet him in person as soon as he was released.
Otis pleaded no contest to the felony, and was sentenced to community labor and ordered to pay $4,000 for the damage.