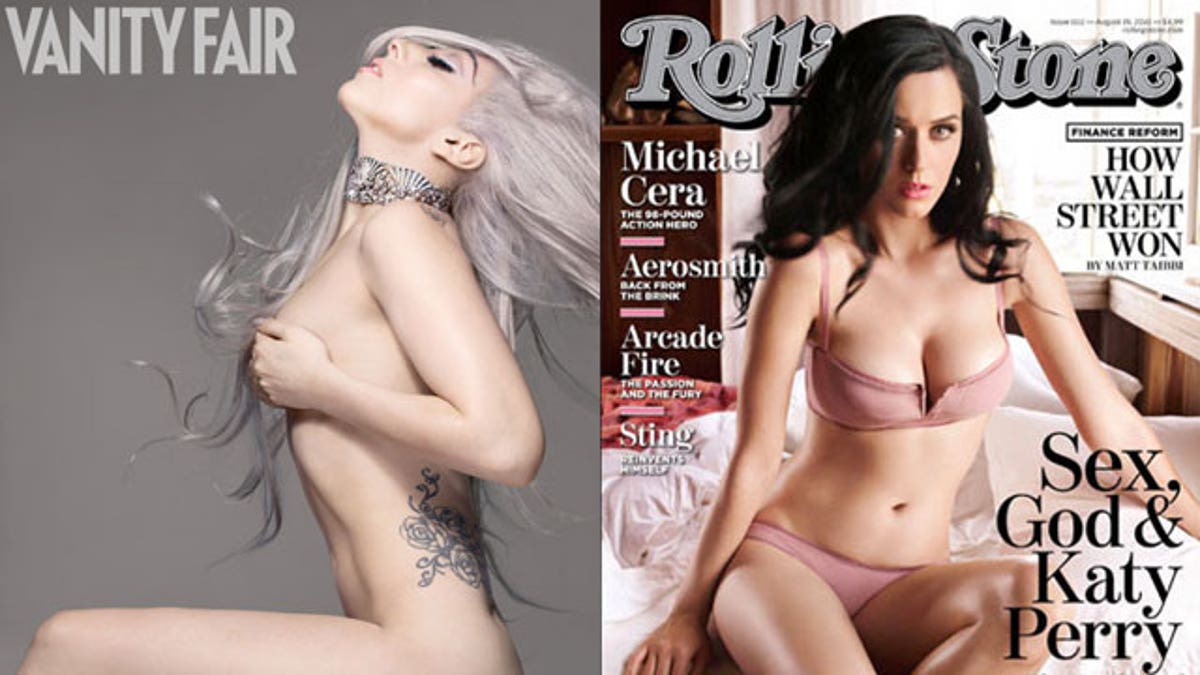 This month, Lindsay Lohan bared her body for Maxim magazine, Lady Gaga was naked on the cover of Vanity Fair, and Katy Perry went topless in Rolling Stone.
They're all young, attractive Hollywood pop princesses – so what's the difference?
Maxim is a men's magazine in which flesh-flashing is the norm, while Vanity Fair, a high-end, fashion/politics publication, and Rolling Stone, the country's venerable rock music and pop culture chronicler, are not.
So has the decaying world of magazine publishing reached a point where all magazines are emulating Maxim and Playboy with sexy young women exposing themselves in order to attract consumers' attention? Total combined subscription and single copy U.S. magazine sales in 2009 were down 6 percent from 2008, and at their lowest level since 1985, according to Magazine Publishers Association figures.
U.S. magazine sales at newsstands and other retail outlets also slipped in the first half of 2010, falling 5.6 percent to roughly 32.5 million in the January-June period.
VOTE: Have Magazine Covers Gone Too Far?
"Magazines, struggling to stay afloat, do need to titillate a bit more than they normally have. They are desperate," media blog Adrants.com editor Steve Hall told Pop Tarts. "Sex sells. It always has. Whether or not it can save magazines though is unclear."
The flesh fest doesn't stop ant Vanity Fair and Rolling Stone. Kim Kardashian graced the cover of high-fashion magazine Harper's Bazaar sans her clothes this summer, and newcomers Emmanuelle Chriqui, Colbie Caillat, and Kara DioGuardi bared all for beauty publication Allure's "nude issue."
"With the dwindling advertising dollars, the A-list Madison Ave magazines are looking to lure a younger 18-25 demographic, so it's no surprise they use scantily clad ... stars," said Hollywood image consultant Michael Sands. "The Internet is capturing the eyeballs of most people, so glossy magazines are just trying to survive in the marketplace."
But perhaps it isn't the mainstream magazines' fault. If the young ladies want to be recognized for their artistic contributions long-term, might it be time they took responsibility and started saying no?
"You can blame the magazines for pushing these twenty something year old pop stars to bare their 'T & A,' or you can ask Katy Perry ... why she doesn't think she has anything else to offer viewers but her body?" said Associated Press pop culture reporter Natalie Rotman. "Magazines have always been pushing women to demean themselves because sex sells. Where are the women who know they are more than that, that their voice and talent are enough?"
But according to Hall, the likes of Vanity Fair and Rolling Stone can opt for the "sex sells" cover all they want, but eventually its what's inside, and the state of the print industry, that will determine who wins and loses.
"Nudity is a temporary solution, without actual journalistic substance, it is all just window dressing," he said. "Magazines are not dying. What's dying is the form through which their content is delivered: ink printed on paper. While there is no reason these companies can't adapt, many will fail because they will attempt to hang on to the old model longer than those who, more smartly, make the shift to digital."