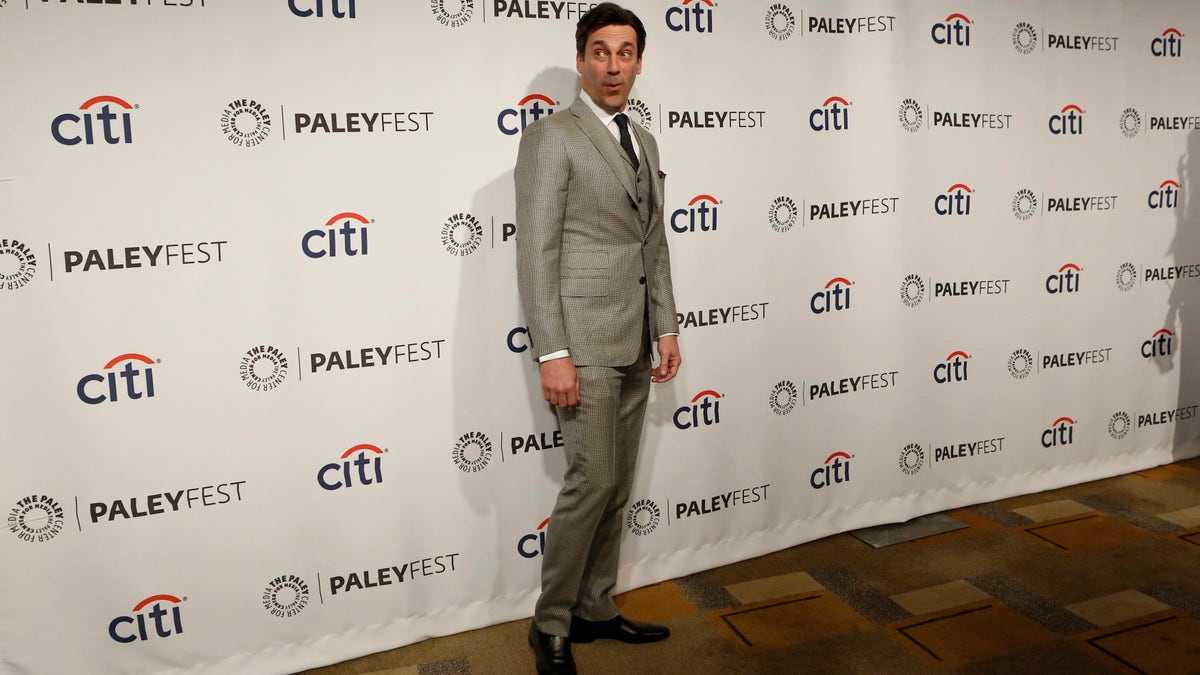 Will Betty and Don Draper get back together?
"Probably not," Jon Hamm told an audience of "Mad Men" fans during Friday night's Paleyfest panel at Hollywood's Dolby Theater reports Variety.
But, for the most part, the appearing castmembers, which also included Vincent Kartheiser, Christina Hendricks and Elisabeth Moss, remained mum on exactly what happens when the first half of the final season of AMC's Emmy-winning skein bows on April 13. The conversation, moderated by TV Guide's Michael Schneider, ranged from the actors' feelings of loss as production on the final seven episodes begins next week to favorite moments from the past eight years to the show's trademark moments of silence between characters that say so much.
"I think some of us know where our characters are going to be," said Hamm. "I don't think any of us know what the scope or the entire body of the show is going to be. The way the show doles out information and tells the story is very oblique sometimes and I think that when people become really invested in the show they try to fill in the blanks."
One thing that's clear is that for Hamm, who for the past seven years has played the enigmatic, alcoholic Draper, the impending finale won't be easily suffered.
"We're in some phase of grief right now and it's probably denial," he revealed. "There's nothing we can do to prepare for it. It just is. We just need to have as much fun as we can making the show until we can't make it anymore. And that will be emotional, but it's inevitable. Saying goodbye is part of life."
"It's difficult," agreed Robert Morse, who plays crusty ad firm partner Bertram Cooper. "There's an empty feeling because you are used to seven years of being together and being the best you can and all of a sudden it's over and you walk around the house and you put the Celtics game on and you're not going to go to work next Tuesday. And we're going to miss it. And it's something we all have to adjust to it and yet you grapple with it."
For 14 year-old Kiernan Shipka, who was cast in the role of Draper's daughter Sally when she was six, her experience on the show represents not just a career milestone, but a marking of her entire adolescence.
"I've been on the show longer than I haven't, which is weird to think about but it's true," said Shipka. "To not know what Sally is going to be up to anymore is going to be sad."
While Hamm isn't savvy to the "definitive end of the show," he did hint at Don spending this last season continuing to wrestle with the myriad emotional and marital setbacks that have plagued him in prior years.
"We've obviously seen Don have personal struggles in various parts of his life over the course of the show — trouble with his ex-wife and his kids — and the one constant has been work," he said. "And now at the end of season six, we see that his marriage is in trouble, his relationship with his kids is tricky at best and now work is not there. And that's going to be a hurdle. But one overriding principle of Don is that he's a survivor. He rises to the challenge."
Jessica Paré, who plays Draper's soap opera actress wife, Megan, and Moss, who plays the career-driven copywriter Peggy Olsen, spoke of how their characters help personify the rise of the 1960's feminist icon.
"It's a time where feminism is sort of bubbling up in the culture and Megan takes it for granted that she can have everything — a career, a family and a husband who loves her and supports her," notes the Canadian-born Pare. "And Don wants to be that man, he wants her to have what she wants as well, but it's not an easy switch to flip."
"[Peggy's] battle all along has been: Would she be Don? Should she be Joan? Should she be someone's wife or someone's mother?" explained Moss. "I don't think she's figured it out yet but she's starting to ask the right question, which is: Who am I? I think she's finally figuring out that her role is to be who she is."
Hendricks' Joan Harris, who began her "Mad Men" journey as a bombshell secretary and has since become a single mom and formidable ad firm partner, will "absolutely find her place" in the final episodes.
"She's making it happen on her own and sharing her feelings and emotions about it," said Hendricks. "She's gauging where her strengths are. Ultimately, Joan is a protector and nurturer and she is figuring out the best way to take care of her son and to protect her family."
The cast, itself, has become a family, said Moss, "hanging out together" on and off set, and when the time comes for that one final shot there's a certain special moment she'll be clinging to forever.
"It was back when were wrapping the pilot and we were looking out at the New York skyline and the sun had just set and it was so beautiful," the actress wistfully recalled, "and I thought, 'Well, that was really wonderful and I hope we get to do it again.'"