Lindsay Lohan's rise and fall: From Disney darling to tabloid sensation
Lindsay Lohan became a Disney darling after her performance in the 1998 remake of "The Parent Trap" at the ripe age of 12. But after years of success in the movie industry, Lohan's personal life took a turn.
In recent years, Lohan has made headlines for her infamous brushes with the law — some of which have landed her in rehab. The star told People in December 2016 she was attending attending Alcoholics Anonymous meetings in order to stay clean.
"I didn't feel bad before. I never felt bad. I just wanted to, like, find a balance. I was out too much. I was too caught up. ... I was like going out just to get it out of my system. I was going out too much and I knew that, and I have more to live for than that," Lohan told the magazine at the time, adding that she wanted to focus on her career.
LINDSAY LOHAN DEMANDS THAT HER BEACH HOUSE STAFF 'WEAR SAME SHOES' OR 'YOU'RE FIRED'
Now, at age 32, Lohan is once again grabbing the public's attention. Read on for a look at what Lohan is up to now — and how her life and career have transformed through the years.
Slamming #MeToo
In an August interview, Lohan slammed female "attention-seekers" for sharing their "Me Too" stories years after the incidents took place.
"Look, I am very supportive of women. Everyone goes through their own experiences in their own ways," Lohan told Britain's The Times on Aug. 15. "If it happens at that moment, you discuss it at that moment. You make it a real thing by making it a police report."
LINDSAY LOHAN: WOMEN SPEAKING OUT ABOUT #METOO EXPERIENCES 'LOOK WEAK'
The actress, who is now living in Mykonos, Greece, said the powerful women who are speaking out right now are making themselves look weak, though they are really strong.
MTV reality series introduced
Lohan is going to make an appearance on the small screen, starring in an MTV reality series titled "Lohan Beach Club" that will air in 2019. The show will center on Lohan's life in Mykonos.
Defending Weinstein
In a pair of since-deleted Instagram videos, Lohan reportedly defended disgraced movie mogul Harvey Weinstein in October 2017.
"I feel very bad for Harvey Weinstein right now, I don't think it's right what's going on," Lindsay said in a video, according to E! News, while encouraging Weinstein's wife, Georgina Chapman, to stand by his side. Champman announced a day prior that she was leaving her husband of 10 years in light of the sexual assault allegations.
"He's never harmed me or did anything to me — we've done several movies together. I think everyone needs to stop — I think it's wrong. So stand up," she continued.
2010 jail sentence
Lohan was sentenced to 90 days in jail in July 2010 after violating probation and missing seven alcohol education classes.
"I did do everything I was told to do and did the best I could to balance jobs and showing up," Lohan told Superior Judge Marsha Revel in a Beverly Hills courtroom. "It wasn't vacation, it wasn't some sort of a joke."
But the judge found Lohan's apology insincere. Lohan ended up serving 13 days in jail and then went straight to a rehab facility upon her release.
Court-ordered rehab
A judge ordered Lohan to attend rehab after the star failed a drug test in September 2010. The actress would stay in rehab from Oct. 22, 2010 through Jan. 3, 2011.
"You're staying there past New Year's. There's a reason for that," the judge said at the time, according to People.
Violating probation
In April 2011, Lohan was given 120 days in jail and 480 hours of community service for violating probation stemming from her 2007 DUI.
The next month, when Lohan showed up to jail she was turned away because of overcrowding. The actress was given an ankle monitor and put on house arrest for 35 days.
'Ugly Betty' gig
Lohan's guest appearance in "Ugly Betty" in 2008 was cut short after the actress argued with the ABC show's star America Ferrera on set. Lohan was cut from an agreed-upon six episodes to four.
"It was a mess. Lindsay would show up every day with an entourage of people. She smoked 24/7, and after she left, they had to repaint her dressing room it was such a mess," a source told the New York Post at the time.
'[She] would obsessively cut pictures of herself out of the tabloids like she was creating some sort of scrapbook and refused to go on set until America was there — it was a power play," the sources added.
However, a source for Lohan told the paper Ferrera was to blame.
Earlier DUI and rehab stints
Lohan was arrested for a DUI after crashing her Mercedes into trees in Beverly Hills on May 26, 2007. Police told TMZ they also found a "usable amount" of cocaine at the scene. Lohan was briefly hospitalized after the incident.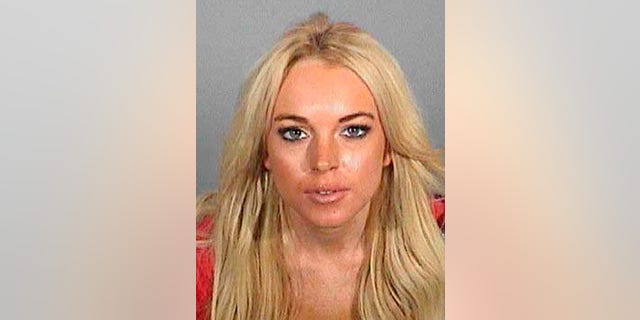 Days after the arrest, Lohan entered a 45-day program at the Stays at the Promises rehab facility in Malibu, the Daily Beast reports.
Shortly after leaving rehab, Lohan was once again arrested in July for a DUI and cocaine possession after a frightened woman dialed 911 to report being chased by Lohan's SUV.
With another drunken-driving case pending, Lohan had a blood-alcohol level of between 0.12 and 0.13 percent when police found her about 1:30 a.m., Sgt. Shane Talbot told The Associated Press.
Lohan's attorney, Blair Berk, said her client had relapsed and was again receiving medical care.
"Addiction is a terrible and vicious disease," Berk said.
Lohan was later released on $25,000 bail and agreed to wear an alcohol-monitoring bracelet. She then checked into another rehab facility.
In August 2007, Lohan was charged with seven misdemeanors and pleaded guilty to two counts of being under the influence of cocaine and pleaded no contest to driving under the influence, with a blood alcohol level higher than .08, in the May and July incidents.
The star was given a 24-hour jail sentence and ordered to complete an 18-month substance abuse education class, People reports. She was also ordered to return to rehab at Cirque Lodge program in Utah.
Lohan reported to the Century Regional Detention Facility in Lynwood to serve her sentence in November but was released after just 84 minutes due to overcrowding.
Acting accolades 
In 2004, Lohan, then 17, scored the lead role as Cady Heron in the popular teen comedy "Mean Girls."
"Mean Girls" was the top spot at the box office opening weekend, grossing roughly $25 million.
The hit show made its way to Broadway in April 2018. The musical is wildly popular, bringing in over $1 million for seven previews in March ahead of its big opening, Variety reports.
Before that, Lohan starred in "Freaky Friday" in 2003 alongside Jamie Lee Curtis, who plays her mom in the film.
The Associated Press contributed to this report.