Lindsay Lohan's Playboy Debut Falls Flat With Consumers, Retailers Say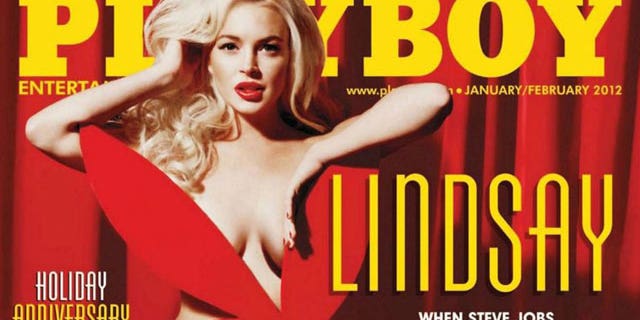 Amidst the holiday melee, shoppers aren't rushing to pick up their copy of the much-talked about Lindsay Lohan issue of Playboy this week.
It was one thing to see Lohan's nude Playboy spread when it was leaked on the Internet last week. It's another experience entirely to see the 10 pages of photos in person in the magazine, which hit newsstands Friday.
But not many consumers are paying for that experience. In fact, interest seems low in seeing Lohan's intensely air-brushed impersonation of Marilyn Monroe in glossy print. Fox411 spent Friday morning trolling the shelves of newsstands and gas stations from New York to Philadelphia only to be confronted with the same reality at each: Lohan's glassy-eyed stare peaking above the backs of more family friendly fare, with no one staring back or making a purchase.
"No one has bought it," was the resounding answer to our query at each stop.
Click here to follow FOX411 on Twitter.
Once the photos were leaked, the response to the spread, for which Playboy paid a reported $1 million, were lukewarm across the board. In an exclusive interview with E! News Hugh Hefner himself admitted that he originally had doubts about including Lohan in the magazine and putting her on the cover.
Click here to "like" us on Facebook.
"It really came as a surprise to me," Hefner told E! "I kind of had mixed emotions about it initially, and then it turned into something bigger than life. "I wasn't quite sure where she was at in her life, obviously. It depends on whether it's Tuesday or Thursday."
The Lohan pictorial was leaked online last week after a hacker found the pictures on a shared computer server. The leak spooked the magazine, which decided to move up their publication date and release the pictures on their own site to try to maximize sales in the wake of the leak.
"Because of the interest & the Internet leak, we're releasing the Lindsay Lohan issue early," Hef himself tweeted.

 Playboy reportedly printed thousands of extra copies of the magazine in anticipation of a rush on it.
The entire roll-out for the Lohan Playboy spread has been mired in disaster. After a travel snafu this week, Lohan was unable to make it back from a Hawaiian vacation in order to do her single interview for the shoot with talk show host Ellen DeGeneres. And now that the magazine has hit newsstands without a ton of fan fare, it appears Lohan won't be giving any interviews about the spread.
Playboy did not return e-mails for comment on the pace of sales since the issue hit stands.