Lena Dunham defends Jordyn Woods amid Tristan Thompson, Khloe Kardashian cheating scandal
Lena Dunham is standing by Jordyn Woods after NBA player Tristan Thompson was accused of cheating on Khloe Kardashian with the 21-year-old model.
Dunham took to Twitter on Tuesday to give her take on the scandal involving Woods, Thompson and the Kardashian-Jenner family. Kylie Jenner's former best friend was accused of kissing and getting cozy with the athlete, who is Khloe Kardashian's boyfriend and father of her child, True.
"Can you imagine if who you'd made out with when you were 21 had massive public shaming consequences? When I was 21 I kissed my friend's crush in my bathroom during a dinner party," Dunham tweeted about Woods. "I was inexplicably wearing a dog leash. I stayed in bed for days feeling hot shame. That was enough of a consequence!"
"Nobody slashed prices on my eyeliner brand or whatever," the "Girls" star wrote on Twitter, referencing the Kylie Cosmetics makeup line named after Woods.
Dunham added, "The legal drinking age is 21. The legal going on TV age should b 26. Just weighing in on the important national issues!"
KHLOE KARDASHIAN RESPONDS TO TRISTAN THOMPSON'S ALLEGED INFIDELITY
A fan criticized Dunham for defending Woods and said the Kardashians had every right to feel betrayed after the 21-year-old's alleged actions.
"I see you're coming for the Kardashians (as always). Very different to a drunken party kiss in your twenties when it's your best friends' older sister's boyfriend who she has a baby with and when you've been there for her through her heartbreak in the past. It's a betrayal," the user tweeted at Dunham, who then insisted she was not going after the reality family.
"I'm not coming for the K's! I love and respect them. It's just A LOT of media attention on a very young girl's sexual choices and my heart aches when I see that," Dunham responded.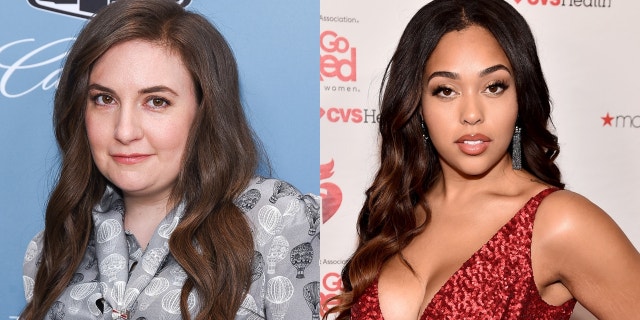 JORDYN WOODS TEASES FIRST INTERVIEW SINCE KARDASHIAN CHEATING SCANDAL DESPITE REPORTEDLY SIGNING NDA
Earlier this week, Woods announced she will appear on Jada Pinkett Smith's Facebook show, "Red Table Talk," in her first Instagram story post since reports of the alleged cheating surfaced. The 21-year-old did not disclose what she will be speaking about, but many speculated she may break her non-disclosure agreement with the Kardashians to tell her side of the story.
Khloe Kardashian and Thompson nearly called it quits last year after the Cleveland Cavaliers player made headlines in April for his alleged infidelity while the reality star was pregnant with their first child.
Kardashian, who gave birth to daughter True days after those reports, ultimately forgave Thompson then, but officially ended their relationship last week after learning about the most recent incident, E! News reported.
CLICK HERE TO GET THE FOX NEWS APP
Kardashian has not directly addressed the alleged infidelity, but tweeted Tuesday that she appreciated her fans' support.
"Hi loves, wanted you to know that I appreciate you! I've been reading your kind words and they really are a blessing to me. I love you! Thank you Thank you!" the "Good American" founder wrote. "I'll be back when I'm in the mood to chat with you all. Until then remember to be kind to one another."