Legendary soul singer Etta James dead at 73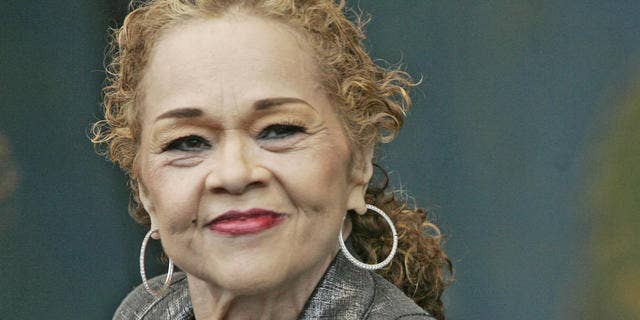 Etta James, whose powerful voice and passionate delivery created some of music's most iconic love songs such as "At Last," has died at the age of 73 from complications from leukemia, her manager said Friday.
James had been suffering from dementia and kidney problems, and was battling leukemia. In December 2011, her physician announced that her leukemia was terminal, and asked for prayers for the singer.
During her illness, her husband Artis Mills and her two sons fought bitterly over control of her $1 million estate, though a deal was later struck keeping Mills as the conservator and capping the singer's expenses at $350,000.
James died at Riverside Community Hospital, with her husband and sons at her side, her manage, Lupe De Leon, said.
"It's a tremendous loss for her fans around the world," he said. "She'll be missed. A great American singer. Her music defied category."
Boldness was as much a trademark of James, a member of the Rock and Roll Hall of Fame, as her platinum-dyed mane.
She scored her first hit when she was just a teenager with the suggestive "Roll With Me, Henry," which had to be changed to "The Wallflower" in order to get airplay. Over the years, she'd notch many more, carving a niche for herself with her husky, soulful voice and her sassy attitude, which permeated her songs.
But it was her jazz-inflected rendition of "At Last" that would come to define her and make her legendary. The song, which starts with sumptuous strings before James begins to sing, was a remake of a 1941 standard. James made it her own, and her version became the new standard.
Over the decades, countless brides have used it as their song down the aisle, and it has been featured in car commercials and films like "American Pie." But perhaps most famously, Obama and the first lady danced to a version of "At Last" at his inauguration ball.
But the tender, sweet song belied the turmoil that James -- born Jamesette Hawkins in Los Angeles -- would endure for much of her life. Her mother -- whom she described in her 1995 autobiography "Rage to Survive" as a scam artist, a substance abuser and unstable -- was a fleeting presence in her life during her youth.
She never knew her father, although she had been told that he was the famous billiards player Minnesota Fats. When she was older, she met him and asked about the rumor. He wouldn't confirm or deny it: as James recalled, he simply told her: "I don't remember everything. I wish I did, but I don't."
Her mother would come in and out of her life, so she was raised by Lula and Jesse Rogers, who owned the rooming house her mother once lived in. The pair brought up James in the Christian faith, and even as a young girl, her voice stood out in the church choir. James would soon get solos and became so well known, she said that Hollywood stars would come to see her perform.
But she wouldn't stay a gospel singer for long. Rhythm and blues soon lured her away from the church, and she found herself drawn to the grittiness of the music.
"My mother always wanted me to be a jazz singer, but I always wanted to be raunchy," she recalled in her book.
She was doing just that when bandleader Johnny Otis found her singing on San Francisco street corners with a couple of girlfriends in the early 1950s.
"At the time, Hank Ballard and the Midnighters had a hit with `Work With Me, Annie,' and we decided to do an answer. We didn't think we would get in show business, we were just running around making up answers to songs," James told The Associated Press in 1987.
And so, they replied to Ballard with the song "Roll With Me, Henry."
When Otis heard it, he told James to get her mother's permission to accompany him to Los Angeles to make a recording. Instead, the 15-year-old went home and forged her mother's name on a note claiming she was 18.
"At that time, you weren't allowed to say `roll' because it was considered vulgar. So when Georgia Gibbs did her version, she renamed it `Dance With Me, Henry' and it went to No. 1 on the pop charts," the singer recalled. The Gibbs song was one of several in the early rock era where white singers got hits by covering songs by black artists, often with sanitized lyrics.
After her 1955 debut, James toured with Otis' revue, sometimes earning only $10 a night. Things changed for the better in 1959, when she signed with Chicago's legendary Chess label and began cranking out the hits and going on tours with performers such as Bobby Vinton, Little Richard, Fats Domino, Gene Vincent, Jerry Lee Lewis and the Everly Brothers.
"We would travel on four buses to all the big auditoriums. And we had a lot of fun," she recalled in 1987.
She also had a lot of success. James went on to record a string of hits in the late 1950s and `60s including "Trust In Me," "Something's Got a Hold On Me," "Sunday Kind of Love," "All I Could Do Was Cry," and of course, "At Last."
Chess Records, whose founder, Leonard Chess, called James their first soul singer, she wrote.
"He went up and down the halls of Chess announcing, `Etta's crossed over! Etta's crossed over!' I still didn't know exactly what that meant, except that maybe more white people were listening to me. The Chess brothers kept saying how I was their first soul singer, that I was taking their label out of the old Delta blues, out of rock and into the modern era. Soul was the new direction," she said in her autobiography. "But in my mind, I was singing old style, not new."
In 1967, she cut one of the most highly regarded soul albums of all time, "Tell Mama," an earthy fusion of rock and gospel music featuring blistering horn arrangements, funky rhythms and a churchy chorus. A song from the album, "Security," was a top 40 single in 1968.
Her professional success, however, was balanced against personal demons -- drug addiction.
"I was trying to be cool," she told the AP in 1995, explaining what had led her to try heroin.
She was addicted to the drug for years, beginning in 1960, and it led to a harrowing existence that included time behind bars and sapped her singing abilities and her money, almost destroying her career. It would take her at least two decades to beat her drug problem -- her husband even went to prison for years, taking full responsibility for drugs during an arrest, even though James was culpable.
"My management was suffering. My career was in the toilet. People tried to help, but I was hell-bent on getting high," she wrote of her drug habit in 1980.
After she hit rock bottom, she finally quit the habit and managed herself for a while, calling up small clubs and asking them, "Have you ever heard of Etta James?" in order to get gigs. Eventually, she got regular bookings -- even drawing Elizabeth Taylor into an audience. In 1984, she was asked to sing the national anthem at the Olympic Games in Los Angeles, and her career got the resurgent boost it needed, though she fought addiction again when she got hooked on painkillers in the late 1980s.
Drug addiction wasn't her only problem. She struggled with her weight, and often performed from a wheelchair as she got older and heavier. In the early 2000s, she had weight-loss surgery and shed some 200 pounds.
James performed well into her senior years, and it was "At Last" that kept bringing her the biggest ovations. The song was a perennial that never aged, and on Jan. 20, 2009, as crowds celebrated that -- at last -- an African-American had become president of the United States, the song played as the first couple danced.
James did get her accolades over the years. She was inducted into the Rock Hall in 1993, captured a Grammy in 2003 for best contemporary blues album for "Let's Roll;" one in 2004 for best traditional blues album for "Blues to the Bone;" and one for best jazz vocal performance for 1994's "Mystery Lady: Songs of Billie Holiday." She was also awarded a special Grammy in 2003 for lifetime achievement and received a star on the Hollywood Walk of Fame.
But her health went into decline, and by 2011, she was being cared for at home by a personal doctor. A struggle between her sons and her husband developed as she became more ill, as he sought to control her estate. Her sons, Donto James and Sametto James, had power of attorney over her affairs.
The Associated Press contributed to this report.