Latina Magazine Celebrates 15th Anniversary; Pitbull Rocks Stage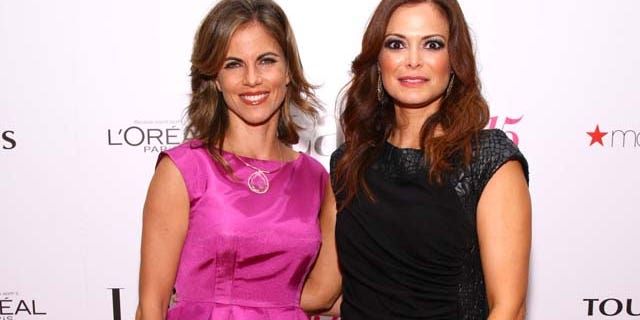 The stars were out for Latina Magazine's quinceañera bash Monday night, with headliners like Kat DeLuna, Lin-Manuel Miranda and an explosive performance by Mr. Worldwide himself – Pitbull.
The lavish event, held at Espace in New York City, was a red carpet extravaganza in which some of the biggest names in the Latino world showed off their best assets.
Kat Deluna, for one, glided through in a classy and shimmery dress.
The 23-year-old pop singer said she feels empowered by the message that the magazine gives to young women like herself.
"I love being Latina," said DeLuna. "I was taught from an early age to fight hard.
"El Poder, the power behind myself that pushes me every day is because I am Latina," she added.
The head of Latina, Galina Espinoza, said she is proud of what the magazine has done for Latinas.
"It's been so exciting to see all of the amazing changes that have happened for Latinas," said Espinoza. "We are so much more accomplished and made great strides. We are shaping pop culture today."
Meanwhile, Espinoza said Latina began working on a blowout cover for its anniversary issue about a year ago. Choosing 25 Latina celebs among the endless candidates to grace the cover, she added, was "incredibly difficult."
"There were another 15 women we easily could have included on it," Espinoza said. "But what we ended up with is a real great cross section of women of all different walks of cultures who are really influential."
Other superstars in attendance supporting the magazine's 15th year mark was Miranda, the creator of the Broadway hit "In the Heights." Fresh from shooting a movie with former Miss Universe Dayanara Torres in 'La isla del encanto' (the island of enchantment) of Puerto Rico, Miranda said there was no way he would miss Latina's party.
"I'm very proud," said Miranda.
The singer/actor said he'll be back in the spotlight, this time as a composer.
"I'm working on "Bring it On! The Musical," Miranda said. "I'm writing half the score for that."
Pitbull closed the event, which was sponsored by L'Oreal, with a high energy level performance of his signature dance songs that had all attendees, old and young alike, shaking their tail feathers.
You can reach Alexandra Gratereaux at: Alexandra.Gratereaux@foxnewslatino.com or via Twitter: @GalexLatino
Follow us on twitter.com/foxnewslatino
Like us at facebook.com/foxnewslatino