Lady Gaga Earns Spot on Vanity Fair's Best Dressed List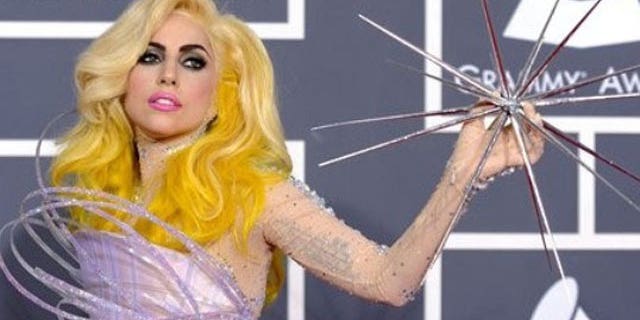 First lady Michelle Obama is becoming a fixture on the Vanity Fair International Best-Dressed List — but it's soccer star David Beckham who earned a spot in the hall of fame.
The most eyebrow-raising choices on the magazine's annual list of top tastemakers are in the "originals" category, which includes cover girl Lady Gaga, John Galliano and Helena Bonham Carter.
Gaga channels the "Dada Catholic girl" in the spirit of Gypsy Rose Lee and Rosie, the Jetson's robot maid, the magazine says, while Bonham Carter, who says her favorite items of clothing is her "bloomers," is inspired by Vivienne Westwood and Marie Antoinette.
Galliano's finds his role model in Oliver Twist, and his favorite shoes are his "lucky biker boots."
Vanity Fair sends ballots to thousands of people, in the U.S. and abroad, believed to have the inside track on style, including designers, retailers, editors, socialites, photographers and entertainers. Amy Fine Collins, Aimee Bell and Reinaldo Herrera oversee the 71-year-old list, which the magazine inherited from the late fashion publicist Eleanor Lambert in 2004.
This year marks Mrs. Obama's fourth consecutive appearance, noting she has practically single-handedly revived arms, belts, cardigans, shifts, high hair and kitten-heel pumps, and it's the third year for France's Dior-wearing Carla Bruni-Sarkozy. British first lady Samantha Cameron is making her debut, with the magazine pointing to her wardrobe full of brooches, bib necklaces and the labels Phillip Lim and Erdem.
Fashion as a category is, of course, well represented with Tory Burch, Elber Albaz of Lanvin, Georgina Chapman of Marchesa, Stacey Bendet Eisner of Alice & Olivia, and Glamour editor in chief Cindi Leive making the cut, as well as Ralph Lauren's three adult children, David, Dylan and Andrew. Royals have their style ambassadors in Princess Mary of Denmark and hall of famer Germany's Princess Mafalda of Hesse.
Diane Kruger, Carey Mulligan, Javier Bardem, Martin Scorsese, Alec Baldwin, Pharrell Williams, siblings Maggie and Jake Gyllenhaal, and couple Ed Burns and Christy Turlington provide the star wattage.