Kylie Jenner, Travis Scott GQ photo shoot slammed as 'cheap rip-off'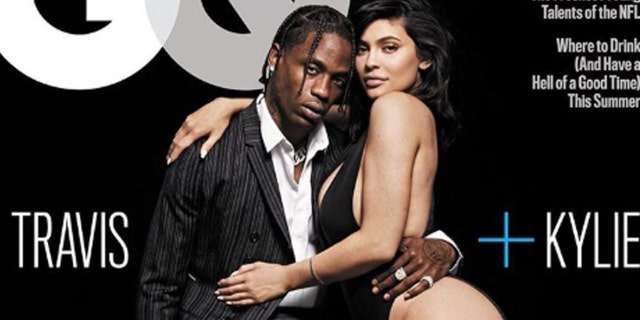 The GQ magazine cover featuring Kylie Jenner and rapper Travis Scott was blasted as a "cheap rip-off" of the iconic Jane Birkin and Serge Gainsbourg photo shoot.
Jenner and Scott posed for the August issue of the magazine with Scott clad in a black, pin-striped suit, while the 20-year-old Jenner straddles him showcasing her assets in a skimpy black one-piece.
A Twitter user was quick to point out the cover is similar to the Birkin-Gainsbourg photo shoot by famed photographer Helmut Newton.
Another user took screenshots of the Jenner-Scott spread and compared it to the Birkin-Gainsbourg shoot and added: "Don't buy their crap."
Birkin is seen straddling Gainsbourg in nearly the same way Jenner was photographed. The couples are in similar get-ups and in similar poses in the magazine itself.
Gainsbourg and Birkin were together for 12 years before splitting up in 1980.
It's Jenner's second magazine cover in recent weeks. She will don the August issue of Forbes, which touted her cosmetics line and her net worth of nearly $1 billion.
Fox News' Morgan M. Evans contributed to this report.