Kristen Bell marks husband Dax Shepard's sobriety anniversary with Instagram post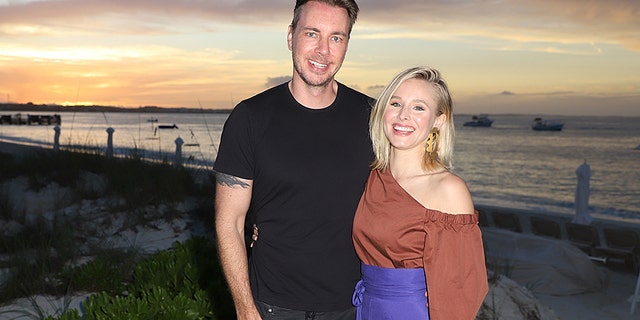 NEWYou can now listen to Fox News articles!
Kristen Bell wished her husband Dax Shepard a happy "sobriety birthday" on Instagram Saturday.
Bell, 38, posted a gallery of snaps on the social media platform for the special occasion.
"I know how much you loved using," she wrote in part of the lengthy accompanying note. "I know how much it got in your way. And I know, because I saw, how hard you worked to live without it."
Bell touched on her husband's openness further down in the post.
"I'm so proud that you have never been ashamed of your story, but instead shared it widely, with the hope it might inspire someone else to become the best version of themselves," she said. "You have certainly inspired me to do so."
Bell also expressed her love for Shepard, whom she married in 2013.
KATHARINE MCPHEE AND DAVID FOSTER'S WHIRLWIND MAY-DECEMBER ROMANCE: A RELATIONSHIP TIMELINE
"I love you more than I ever thought I could love anyone, and I want you to know, I see you," she wrote. I see how hard you work. You set an excellent example of being human."
Bell continued, "Happy 14th year sobriety birthday, @daxshepard. Xoxo."
Shepard said on Instagram Saturday that his wife treated him to a present for the big day -- a King's Hawaiian factory tour.
The "Parenthood" actor shared the news by posting a picture of Bell and Monica Padman, who produces his podcast, "Armchair Expert with Dax Shepard."
MIRANDA LAMBERT AND EVAN FELKER'S RELATIONSHIP ENDED BECAUSE HE 'BROKE HER RULES': REPORT
Shepard discussed his partying lifestyle in a 2012 interview.
"I just loved to get f----d-up—drinking, cocaine, opiates, marijuana, diet pills, pain pills, everything," he recalled to Playboy. "Mostly my love was Jack Daniel's and cocaine. I was famous for going out on Thursday night to have a couple of beers, and that just led all the way to Saturday night."
He added, "I would meet people here and there, and then I'd be in a hotel room with four strangers. Oh, they're tapping out? Well, someone new showed up. Well, what's your name? Yeah, I'd love to go dancing. I lived for going down the rabbit hole of meeting weird people."
Shepard continued, "Of course, come Monday I would be tallying up all the different situations, and each one was progressively more dangerous. I got lucky in that I didn't go to jail."