Kim Cattrall's 'Sex and the City' co-stars share condolences for her brother amid feud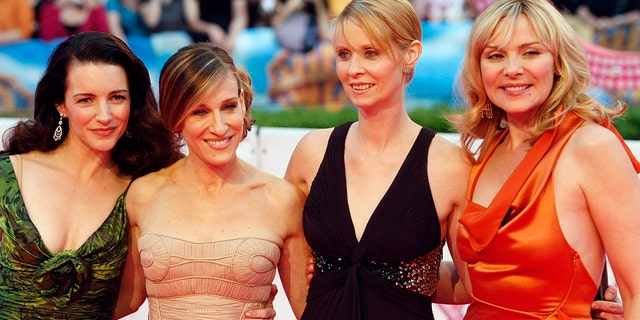 Days after actress Kim Cattrall announced the untimely death of her brother, her "Sex and the City" co-stars are putting aside their ongoing feud with the actress to give their condolences.
Cattrall's co-stars Sarah Jessica Parker and Cynthia Nixon joined the chorus of hundreds who took to social media to show their support for her during this difficult time. As previously reported, the 61-year-old star asked her followers for help earlier this week when her brother, Christopher, went missing. Hours later, she posted an image of her posing with her brother announcing that he had been found dead.
"It is with great sadness that myself and my family announce the unexpected passing of our son and brother, Chris Cattrall," she wrote. "At this time we ask for privacy. We want to thank you all on social media for your outpouring of love and support in this trying time."
Parker was the first "Sex and the City" actress to comment on the post, sharing a brief note of condolence with Cattrall.
"Dearest Kim, my love and condolences to you and yours and Godspeed to your beloved brother," she wrote.
Nixon commented soon after saying, "Hey Kim such awful news. So sorry to hear. Sending you love. XO."
Later in the day, Cattrall posted a follow up in which she thanked both her fans and co-stars for their kind words.
"I would like to thank my fans, friends and my #SexandtheCity colleagues for the outpouring of support for myself and family over the past 72 hours."
The well wishes from the stars come as the entire cast of the hit HBO series is embattled in a very public war of words. As previously reported, Cattrall told Piers Morgan that she was never anything but professional colleagues with the other girls on the show during an October 2017 interview.
"We've never been friends," she said. "We've been colleagues and in some ways it's a very healthy place to be because then you have a clear line between your professional life and relationship and your persona.
"They all have children and I am 10 years older and since specifically the series ended, I have been spending most of my time outside New York so I don't see them. The common ground that we had was the series and the series is over."
The quote also came with a confession that she turned down the chance to reprise her role as Samantha Jones in a third "Sex and the City" movie. It's worth noting that, even in her "thank you" post, she referred to the ladies as her colleagues, not friends.
"It's sad, but I always think that what ties us together is this singular experience," Parker told Andy Cohen soon after. "It was a professional experience, but it became personal because it was years and years of our lives, so I'm hoping that that eclipses anything that's been recently spoken. … That many years spent doing something so special that people had a connection with, it is such a privilege."