Kent and Shannon Rollins' Sparklin' Taters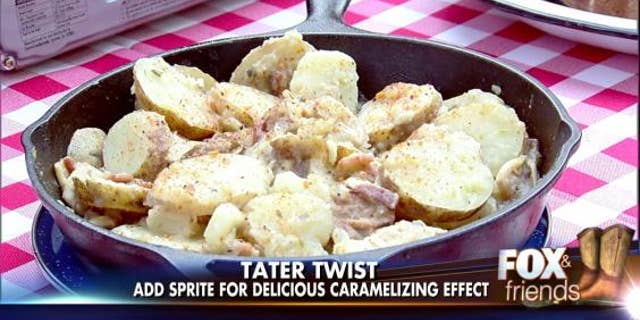 Kent and Shannon Rollins, coauthors of "A Taste of Cowboy: Ranch Recipes and Tales From The Trail," dropped by with this delicious dish!
Sparklin' Taters
Prep time: 25 minutes
Total time: 1 hour and 5 minutes
Makes 6 to 8 servings
Ingredients
5 russet potatoes, sliced into ¼-inch thick pieces
7 pieces thick-cut bacon, cut into 1-inch pieces
2 jalapeños, diced
1 large yellow onion, sliced
2 tablespoons minced garlic
Seasoned salt and black pepper
3 to 4 cups lemon-lime soda (Sprite, 7up)
Method
1. Preheat the oven to 400°f. Lightly butter an 11-x-13-inch casserole dish.
2. Place the potatoes in cold water and set aside.
3. Place the bacon in a large skillet and cook over medium heat for about 4 minutes, or until it begins to brown. Add the jalapeños, onion, and garlic. Reduce the heat to medium-low and continue cooking, stirring, until the bacon is three quarters done (not crisp) and the vegetables soften, about 8 minutes. Remove from the heat.
4. Drain the potatoes. Place a layer of potatoes in the casserole dish. Cover with half of the bacon mixture and sprinkle with the seasoned salt and pepper to taste. Repeat with the remaining ingredients. Pour the soda over the entire dish until about three-quarters full.
5. Cover the dish with tin foil and bake for 20 minutes. Remove the foil and stir. Replace the foil and continue baking for about 20 more minutes, or until the potatoes are tender. Serve hot.
Tip: Covering the dish will help the liquid from boiling out, but feel free to add more soda while cooking if the potatoes don't have enough moisture to soften.