Kanye West's Ex Girlfriend Reportedly Calls Kim Kardashian a Homewrecker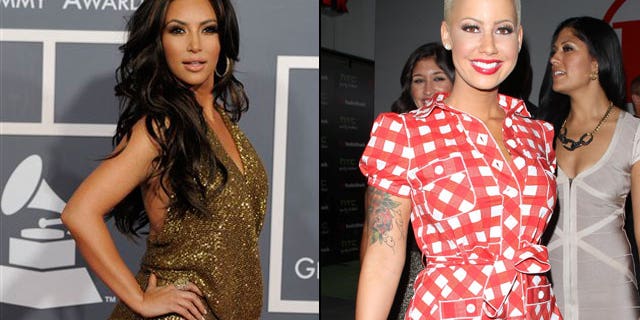 It appears Kanye West's ex-girlfriend isn't a big fan of Kim Kardashian.
"Kim is one of the main reasons why me and Kanye are not together," Kanye West's ex-girlfriend, model Amber Rose, told Star magazine, via RadarOnline.com. "She's a homewrecker!"
According to Rose, she was in a serious relationship with West when Kardashian moved in on her man. The hook-up allegedly happened when Kardashian was dating NFL star Reggie Bush.
Click here to follow Fox411 on Twitter.
"They were both cheating," the curvaceous, closely-cropped cutie told Star. "They were both cheating on me and Reggie with each other. She was sending pictures, and I was like, 'Kim, just stop. Don't be that person.'"
Rose confronted the reality star with a pointed email, asking for an explanation. "I thought at least she'd be woman enough to respond to me. She never responded."
Click here to "like" us on Facebook.
Rose is not impressed with Kardashian's ethics. "It's very important that us women stick together and we don't [expletive] each other over like that," she said.
Happily, Rose has recovered from her heartbreak and is now dating rap star Wiz Khalifa. "I want to thank (Kardiashian)," said Rose. "Because if she was never a homewrecker, then I never would have met Wiz, and I wouldn't be as happy as I am now."
Click here for more photos of Kim Kardashian and Amber Rose from X17 Online.