Justin Timberlake helps fan pull off epic pregnancy announcement at Detroit concert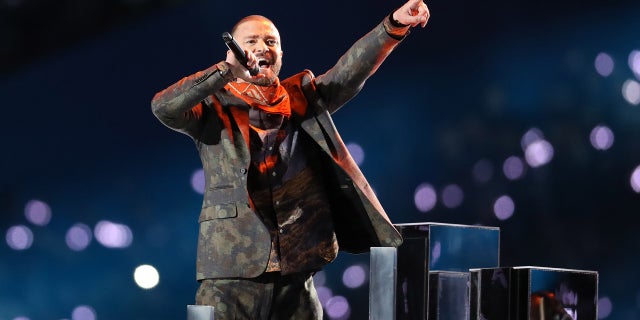 NEWYou can now listen to Fox News articles!
Pop star Justin Timberlake stopped his concert at Detroit's Little Caesars Arena Monday to help a fan make a special announcement -- there's a baby on the way.
A Facebook video of the big moment has racked up more than 26,000 views as of Wednesday afternoon. Expecting mother Darcell Baxtresser was standing near the stage as Timberlake performed, waving a sign that reportedly read, "Will you help me announce my pregnancy?"
"Oh my God, me?" Timberlake is overheard saying in the clip, pointing to himself. He soon approaches and grabs the sign, before reading it out loud.
He asks the woman's name, clarifying it's Darcell, before telling the audience, "I gotta stop the show for a second."
"This says - you ready? This says - Detroit this is very cool, are you ready?" he asks the crowd. "This says, 'Will you help announce my pregnancy tonight?'"
He then asks if he can nickname the child "Baby Bax," before revealing the baby is due on November 1 -- to loud cheers. ­
Baxtresser never expected the announcement to be a (literal) show-stopper.
"I really only expected him to see it and, at best, take a picture with it, but I did not at all expect him to stop the show," Baxtresser told E! News.
JESSIE JAMES DECKER SHARES FIRST PHOTO OF BABY NO. 3
Friends and family members at the concert started "blowing up" Baxtresser's phone as soon as they witnessed Timberlake's sweet gesture first-hand.
"So I figured I had to tell my family right away," Baxtresser said. "I group texted my siblings and parents the video and they were all going nuts. I sent it to my husband and he was just like 'Oh wow!!'"
It was a surreal experience to have your "first love" announce your pregnancy, Baxtresser wrote on the now viral Facebook post, boasting that no one will be able to top it.
"I've loved him since I was 6 years old so if I wanted anyone in the world to announce it, it was him," Baxtresser told E! News.