Justin Bieber would have liked Anne Frank to be 'a belieber'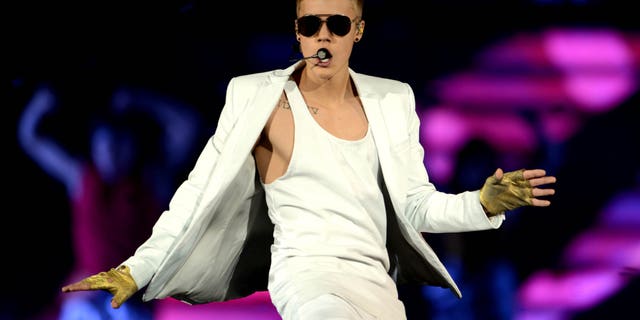 AMSTERDAM – Justin Bieber wrote an entry into a guestbook at the Anne Frank House museum in Amsterdam, saying he hoped the Jewish teenager who died in a Nazi concentration camp "would have been a Belieber" -- or fan of his -- if history were different.
The comment triggered a flood of criticism on the museum's Facebook page Sunday, with many criticizing the 19-year-old Canadian pop star for writing something they perceive to be insensitive.
Calls made and emails sent to Bieber's publicist and agent in Los Angeles weren't immediately returned.
Museum spokeswoman Maatje Mostart confirmed that Bieber visited Friday evening. She said the museum was happy to have received Bieber and didn't see anything offensive in his remarks.
Anne Frank was a Jewish teenager who hid with her family in a small apartment above a warehouse during the Nazi occupation of World War II. Her family was caught and deported, and Anne died in the Bergen-Belsen concentration camp in 1945.
The diary she kept in hiding was recovered and published after the war, and has become the most widely read document to emerge from the Holocaust.
Bieber's whole note read: "Truly inspiring to be able to come here. Anne was a great girl. Hopefully she would have been a Belieber."
Mostart said Bieber called ahead and was given a guided tour.
Bieber's remarks led to criticism from some quarters, as a Facebook response insulting Bieber received more than a thousand "likes" -- slightly more than the museum's original post about the incident.
Meanwhile on Twitter, posts mocking Bieber and imagining that he had visited the museum and walked away thinking only of himself began circulating Sunday, though the message is open to interpretation.
But Bieber had some support from the Anti-Defamation League. The organization's national director Abraham Foxman told the New York Daily News that the pop singer's message was not that far fetched.
"If you read Anne Frank's diary, she was into celebrities, she was into pop culture," Foxman said. "So for (Bieber) to say he would have hoped that she would have been a fan, it's a nice thing."
Some of Bieber's 37 million followers also Tweeted messages of support. Others in his fan base -- which is heavily weighted toward young girls -- tweeted that they didn't know who Anne Frank was.
Frank was 13 years old when she began keeping her diary in 1942. Like many teenage girls, she made a collage of the celebrities of her day -- movie stars, dancers, and royalty -- and kept it on her bedroom wall.
"Our little room looked very bare at first with nothing on the walls; but thanks to Daddy who had brought my film-star collection and picture postcards ... with the aid of a paste pot and brush, I have transformed the walls into one gigantic picture," she wrote on July 11, 1942, just days after going into hiding. "This makes it look much more cheerful."
Many of those pictures can still be seen on the walls of the museum Bieber visited Friday.
Bieber has had a tough few weeks in Europe. He had to leave a monkey in quarantine after landing in Germany without the necessary papers for the animal. Before that, the 19-year-old singer had a trying stay in London. The star struggled with his breathing and fainted backstage at a show, was taken to a hospital and then was caught on camera clashing with a paparazzo. Days earlier, he was booed by his beloved fans when he showed up late to a concert.
He performed in Arnhem, Netherlands, on Saturday night, and will next perform three nights in Oslo, Norway.
The Associated Press contributed to this report.