Just like old times: Fans go wild for Rolling Stones at new premiere of new documentary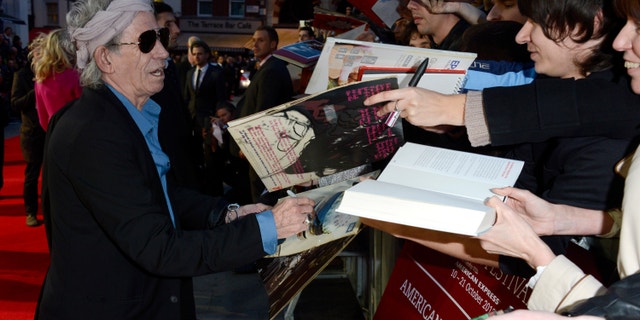 Keith Richards has had a lot of rock `n' roll moments. He didn't expect another one at the premiere of The Rolling Stones' new documentary "Crossfire Hurricane."
The film directed by Brett Morgen and produced by Mick Jagger debuted last Thursday at the London Film Festival and hundreds of fans turned out to catch a glimpse. Guitarist Keith Richards called the reception "overwhelming."
"I did not expect Leicester Square to be going bananas, do you know what I mean?" Richards said. "It was quite, it was heartwarming to say the least, especially walking out you felt you were still in the movie. Take 2."
The Stones will celebrate the 50th anniversary of one of rock `n' roll's cornerstone acts later this year with Nov. 25 and 29 shows in London and Dec. 13 and 15 shows in Newark, N.J.
Guitarist Ronnie Wood hinted at Thursday's premiere that things are going so well in rehearsals the band could simply just keep going after finishing those gigs.
The group has not played together live in five years, so the gigs will likely add another chapter to the already historic run chronicled in "Crossfire Hurricane."
Morgen mixes archival early Stones footage with fresh interviews with current members Jagger, Richards, Woods and Charlie Watts and former members Billy Wyman and Mick Taylor.
Members of the band had different reactions. Woods said he had to keep reminding himself he's actually in the band he was watching a movie about. And Richards acknowledged "those were the days, my friend." Jagger, as producer, helped assemble the material.
"It is like looking through your old scrapbook," Jagger said. "But you see a film like this, it is documentary film but it has, you know, a thrust and a narrative so it is not just a random assembly of old bits of material," Jagger said. "So when you start off you have a goal, you have got to have a story and you have got to have a dramatic sort of through line."