Juan Pablo Galavis: Arie Luyendyk Jr. may be the most hated 'Bachelor' of all time
Controversial "Bachelor" Juan Pablo Galavis joked Arie Luyendyk Jr. might have surpassed him as the most hated "Bachelor" contestant in the show's history.
Galavis, 36, told "Entertainment Tonight" he "felt bad" for Luyendyk and the criticism he has received following last week's season finale.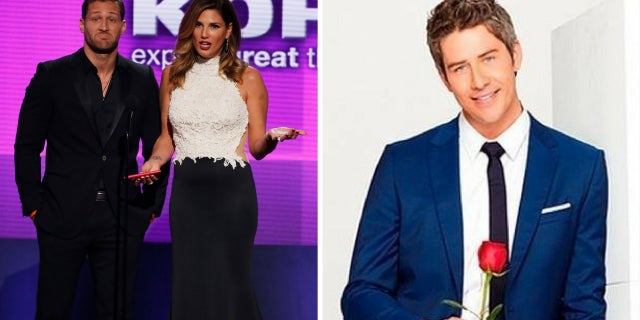 In a twist, Luyendyk presented contestant Rebecca "Becca" Kufrin with the final rose and proposed to her. However, a few weeks later, Luyendyk had a change of heart and decided to end the engagement with Kufrin in order to pursue the runner-up Lauren Burnham. Kufrin was named next season's "Bachelorette" and Luyendyk proposed to Burnham during the show's "After the Final Rose" special.
'BACHELOR' FINALLY ENDS WITH ARIE PROPOSING … AGAIN, AND THE ANNOUNCEMENT OF THE NEXT BACELORETTE
Galavis was also controversial after he declined to propose to Nikki Ferrell, his final pick. He also reportedly told the runner-up Clare Crawley during the season finale, "I love f---ing you, but I don't know you."
Galavis explained what Luyendyk may have felt when he decided to change his decision.
"I remember my season and I see all the time that I spent with the girls. Obviously, you spend like 40 hours with a girl total," Galavis told "Entertainment Tonight." "So maybe he went out with her and then he was like, 'Wow, is the other girl the one I want?' You know, and that's what I guess he did."
Galavis joked Luyendyk "smashed me" as the most hated "Bachelor."
'BACHELOR' ARIE LUYENDYK JR. HAS CRIMINAL PAST AND MAY BE BANNED FROM MINNESOTA IF GOP STATE REPRESENTATIVE HAS HIS WAY
Galavis ended up marrying Venezuelan TV host Osmariel Villalobos.
Luyendyk told People he "made a huge mistake" by initially choosing Kufrin but felt like "a huge weight [was] lifted off my shoulders" following his reconciliation with Burnham.