Jordin Sparks opens up about the lesssons she learned from Whitney Houston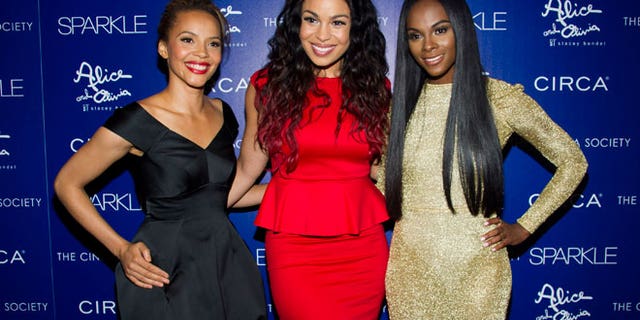 The upcoming musical movie "Sparkle" turned out to be Whitney Houston's swan song, and although this is her co-star Jordin Sparks's first foray into the film world – the "American Idol" alum is still soaking up words of wisdom from the singing legend.
"Whitney taught me that you are never too big to sit down and have a conversation with somebody, you are never too big to smile at somebody or say hello," Sparks told FOX411's Pop Tarts column. "Getting that example from Whitney herself was incredible."
But in the case of "Sparkle," life imitated art just a little too closely – although it seems Houston made no attempt to shy away from her heavily-publicized personal problems.
"One thing we all knew was that Whitney wasn't afraid to talk about the industry, she was very open about the parallels between her life and the story of this movie," Sparks continued. "There is a lot of her in this film… I get chills watching it now. It is like Whitney is answering the questions that everyone has and with her not here, it holds a lot more weight and is a lot deeper. It just brings a tear to your eye."
Set in the 1960s, "Sparkle" – which opens in theaters August 17 – centers on three sisters' who form a girl group and fast become Motown sensations. But fame becomes a challenge as the close-knit family begins to fall apart, struggling with the many personal and professional implications that come with notoriety.
"If Whitney was sitting here right now she would be very open about the fact that there was massive parallels between her characters and her life," explained co-star Carmen Ejogo. "Part of the reason she wanted to tell this story was because she recognized the career and the life she had was both cautionary and celebratory on some level, and that is what 'Sparkle' is all about. It is emotionally messy, and Whitney was the first person to acknowledge that about herself and be really open about that."
And with a big Hollywood acting credit now under her belt, Sparks has come a long way since first being introduced to America as a teenager with a big voice, yet she doesn't forget where she came from.
"It feels like 'American Idol' was just yesterday, but at the same time it feels like years ago. There is a huge growth gap from being 17 and almost 23," she added. "I am still a big fan of the show, I watched it before I was on it and I still watch it now. And I love (new judge) Mariah Carey. I was listening to Mariah when I was in my mother's stomach."