Joey Fatone says "DWTS" contestants too serious, dismisses past cheating claims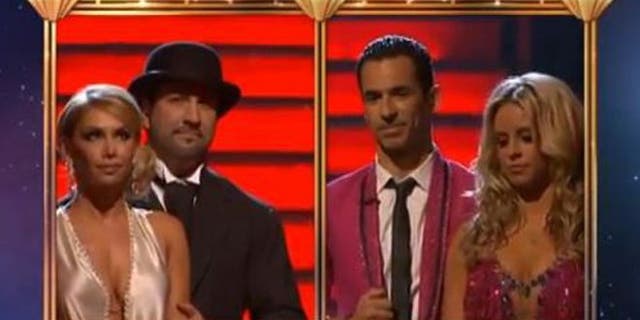 LOS ANGELES – Joey Fatone is the latest celebrity to be voted off "Dancing With the Stars: All-Stars," and while he enjoyed the experience, having just missed out on the Mirrorball trophy in 2007, the former *N Sync sensation hinted that claws were being sharpened away from the lights and cameras.
"It's a completely different season, a season where six people have won it already. Some of them are out for blood, some of them are here to have fun," Fatone told FOX411's Pop Tarts column. "I was here to have fun, maybe I should have been more out for blood, but hey, I had a good time."
Fatone also addressed wide speculation that he essentially "cheated" by taking part on the hyped ABC show, having had many years of dancing experience as part of the popular boy band.
"I wish it were true, but it isn't. The hard part about it for me is that I was never technically or classically trained so I had never done a ballroom dancing class before, or a Latin class before. Yes, I had done hip-hop before and yes, I know I left arm from my right. But we are getting judged on technique and posture. It is completely different," he explained. "I may be able to concentrate on a move but it may not look exactly how I need it to look like, as far as in the ballroom world. Hip-hop is different; it is a lot more flowy with ballroom."
And while Fatone said he and dancing partner Kym Johnson still had the same "goofing" relationship they had five years ago, a few others things had changed.
"I'm older, things hurt easier," he lamented.
Yet Fatone isn't quite ready to part ways with the waltzing and whirling just yet. The former pop prince has teamed up with Emmy-winning choreographer Laurieann Gibson to judge the second season of YouTube dance competition show "D-Trix Presents Dance Showdown," which premiered Friday.
"You are taking these people from YouTube out of their element; it's similar to 'Dancing With the Stars.' These people on the show have millions and millions of subscribers, views or likes, and they follow these people as they are taken out of their element and thrown into this whole world of dancing," he said. "And to be a judge you have to have that rounded point of view, you can't have just one point of view."
But back to the era that started it all – those "Bye Bye Bye" days – fellow band member Lance Bass recently revealed on the "Wendy Williams Show" that he didn't want to come out during his time with *N Sync, instead confiding in Mouseketeer pal Britney Spears.
"None of us really knew at that stage, that he was gay. He was nervous to the fact of what impact that would have on our group but I think it would have worked in the opposite favor than what he thought," Fatone added. "We support him. It's like, whatever dude. You do what you want, it's a free country."
Danielle Jones-Wesley contributed to this report.