Jerry Lewis, comedy icon and philanthropist, dead at 91
Jerry Lewis, the rubber-faced, squeaky-voiced comedy legend who starred in movies and musicals and also was known for his unflagging work on behalf of the Muscular Dystrophy Association, died on Sunday, his publicist confirmed. He was 91 years old.
Lewis' publicist confirmed the news to The Associated Press. The Las Vegas Review-Journal columnist John Katsilometes first reported Lewis' death.
Lewis "passed peacefully at home this morning of natural causes at the age of 91 with his loving family by his side," manager Mark Rozzano said.
Lewis had gone through a series of health problems and scares in recent years. In June 2012 he was hospitalized for two nights in New York after collapsing with what was reported to be a low blood sugar problem.
He was forced to cancel a fund-raising show in Australia due to poor health in June 2011.
Lewis had been touring Australia to raise money for the country's Muscular Dystrophy Foundation, which is separate from the American Muscular Dystrophy Association, where he served as president.
He announced in 2011 he was retiring as host of the association's Labor Day Telethon, which he began hosting in 1966.
"MDA would not be the organization it is today if it were not for Jerry's tireless efforts on behalf of 'his kids.' His enthusiasm for finding cures for neuromuscular disease was matched only by his unyielding commitment to see the fight through to the end. Jerry's efforts on the annual MDA Telethon transformed the broadcast into an American tradition each Labor Day weekend for 45 years," the organization said in a statement. "Though we will miss him beyond measure, we suspect that somewhere in heaven, he's already urging the angels to give 'just one dollar more for my kids.'"
In recent years, Lewis also suffered from a back condition linked to a comedic pratfall from a piano, as well as heart problems. He reportedly had at least two heart attacks.
The comedian who first gained fame as part of a duo with singer Dean Martin was born Joseph Levitch on March 16, 1926 in Newark, New Jersey.
His parents were entertainers and young Jerry made his debut at age five on New York's Catskill Mountains entertainment circuit.
He began using the professional name Joey Lewis, but later changed it to Jerry, reportedly to avoid confusion with comedian Joe E. Lewis.
In the summer of 1946, Lewis teamed up with Martin – first with a nightclub act, then radio and television appearances. Martin was the suave, debonair singer while Lewis was the zany, boyish sidekick with the huge grin and squeaky voice.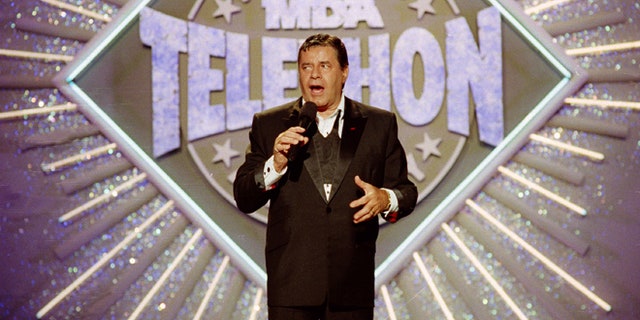 They went on to make a series of movies together before the partnership ended in 1956 and both launched successful solo careers.
Lewis became a major comedy star with his first solo film, 1957's "The Delicate Delinquent," followed by "Rock-A-Bye Baby" and "The Geisha Boy." His later films included "The Bellboy," "Cinderfella," "The Nutty Professor" and "The King of Comedy."
He also appeared in stage musicals and in 1994 made his Broadway debut as the Devil in a revival of "Damn Yankees."
Lewis was consistently respected abroad and a perennial favorite of French critics, sometimes to the amusement of fans at home. In 2006 the French Minister of Culture awarded him the Legion d'Honneur, saying he was the 'French people's favorite clown."
Throughout his career, Lewis worked ceaselessly to raise funds for muscular dystrophy and was even nominated for the Nobel Peace Prize for his efforts.
He was married twice, to Patti Palmer from 1944 until 1980 and to SanDee Pitnick from 1983 until his death. He had five surviving sons from his first marriage (a sixth died) and a daughter from his second.