Jason Aldean files for divorce from wife Jessica Ussery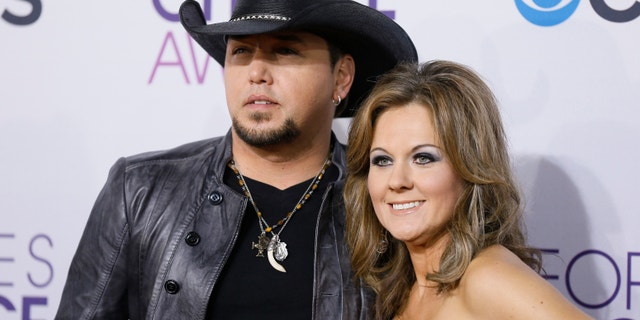 Jason Aldean has filed for divorce from his wife Jessica Ussery, just six months after photos surfaced of Aldean kissing "American Idol" star Brittany Kerr.
Aldean cited "irreconcilable differences" in the divorce documents, obtained by TMZ.
"This is a really tough time for my entire family," Aldean said in a statement Monday afternoon. "Jessica and I have been together since we were teenagers. We've been through a lot of ups and downs over the years as we grew up together as a couple. She will always be important to me because she is the mother of my children, and I know that we will both always make our daughters our #1 priority."
Aldean's publicist confirmed last week the couple had separated after media reports surfaced.
"I've learned that everyone always rushes to judgment when they hear news like this," Aldean said. "That's really hard because no one knows anything about our relationship but us. I understand that because of my job, I have to go through a lot of this in the public eye, but for my girls' sake I really wish people would give us some level of privacy and at the very least be respectful of them."

A source told US Weekly on Friday that the couple has been broken up since January.

"There were obvious problems before the bar kiss, but he finally left earlier this year," the source said.

Back in October, photos surfaced of Aldean, who sings the hit "My Kinda Party," getting touchy feely with Kerr.

Aldean apologized to his fans on his official Facebook page.

"I wanted to talk to you directly, so you were hearing the truth from me and not just reading allegations made about my personal life on gossip web sites," he wrote. "The truth is that I screwed up. I had too much to drink, let the party get out of hand and acted inappropriately at a bar."

"I left alone, caught the bus to our next show and that's the end of the story," Aldean continued. "I ultimately ended up embarrassing my family and myself. I'm not perfect, and I'm sorry for disappointing you guys. I really appreciate being able to work through this privately with my family and for all your continued support."

Aldean and his wife met while in school in Macon, Ga., and were married long before Aldean found fame. He is country's top-selling male act, one of its top touring draws and recently won the Academy of Country Music's male vocalist of the year award. Aldean and his wife have two young daughters together, Keeley and Kendyl.