It's official: 'Star Wars: Force Awakens' takes over 'Avatar' box office record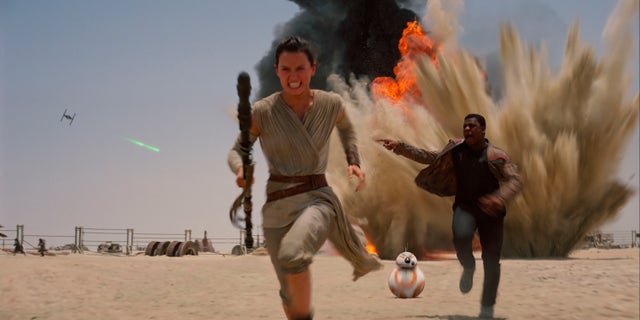 'Stars Wars' is the new box office ruler.
Just a mere 20 days after it was released Disney's "Star Wars: Force Awakens" blast past "Avatar" on Wednesday to take hold of the title as the highest grossing film at the domestic box office. The latter held the title for nearly six years.
According to several reports, the mega-blockbuster surpassed on Wednesday the $760.5 million that James Cameron's sci-fi flick grossed during its seven-month release in December 2009 and subsequent re-release late summer 2010.
The Hollywood Reporter said "Force Awakens" grossed $8 million on Tuesday for a domestic total of $758.2 million – putting it on the cusp of the record.
Cameron's "Titanic" has the No. 3 spot with $656.7 million with "Jurassic World" ($652.3 million) and "Marvel's The Avengers" ($623.4 million) around out the top five.
While the feat by "Star Wars" is impressive, it still has a way to go catch up to "Avatar's" worldwide box office tally of $2.78 billion. As of Tuesday, "Force Awakens" had earned $1.56 billion worldwide, however, it does not include the major market in China – it is set to open there on Jan. 9.
According to THR, box officer observes have suggested that the "Star Wars" sequel will ultimately gross between $2.2 billion - $2.4 billion globally – surpassing Cameron's "Titanic" ($2.19 billion) to become the No. 2 film of all time.
Officials numbers for Wednesday have not been released.
Like us on Facebook
Follow us on Twitter & Instagram