Is Dakota Fanning Too Young to Be on Cover of Cosmopolitan?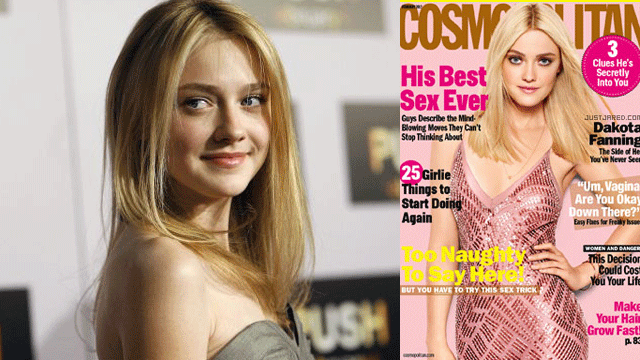 At 17 years of age, Dakota Fanning has become the latest cover star of the sex-driven, how-to-please-your-man-in-bed women's magazine Cosmopolitan.
Fanning, who turns 18 at the end of next month, appears gorgeous and grown up with dark eyes, white blonde hair, and a form-fitting dress on the cover of the magazine's February issue. But Fanning is still a minor, and some media watchers have pointed out that she looks out of place surrounding captions such as "His Best Sex Ever," "Too Naughty To Stay Here: But You Have to Try This Sex Trick," and "Um, Vagina Are You Okay Down There?"
"Cosmopolitan is going overboard by putting an underage girl on its cover surrounded by such article titles," media expert Rachelle Friberg told FOX411's Pop Tarts column. "It is one thing to educate young women about sex and their bodies, but putting a young, underage girl on the cover of a magazine that had long been known to push the limits is sending the wrong message."
However, the magazine isn't backing away from its decision.
"We're thrilled to feature Dakota Fanning on the February cover of Cosmopolitan magazine and she looks stunning. Dakota, who turns 18 this month, is a mature, fearless young woman and we are proud to honor her as our Fun Fearless Female of the year," a Cosmopolitan rep told us. "We applaud her unprecedented accomplishments which will continue in 2012 with her four upcoming movie roles."
Fanning's reps didn't return calls for comment, and it is unclear if the actress even knew or approved of being Cosmo's Fun Fearless Female. Magazines have no obligation to tell any celebrity they will be appearing in their pages (just ask Jen Aniston and Angelina Jolie, stars of hundreds of tabloids covers over the past half decade). But the blogosphere was decidedly against the magazine's choice.
Stylite.com commented that "putting her in league with the full-grown sex symbols who normally cover this magazine (think Kim Kardashian, Scarlett Johansson and Beyonce) sort of makes it seem like she's reached her prime before she's even reached her prime," and NY Magazine noted, "we don't mean to be prude, but isn't she like, 17?"
One reader tweeted that it was "icky" and "sad," while another wrote that this is "NOT a magazine for eight-year-olds."
However Cosmopolitan is not without its defenders.
"Aside from being totally freaked out that wee Dakota Fanning in nearly 18 -- which thus affirms that I have suddenly become quite old -- I'm generally not all that worked up about the still-17-year-old actress appearing on the cover of Cosmopolitan," said Amelia McDonell-Parry of TheFrisky.com. "Generally the actor/actress interviews in Cosmo are nothing more than puff pieces accompanied by cheeky Q&As, not all that different from the type of questions Fanning would get from Teen Vogue."
However, even McDonell-Parry is somewhat disturbed by the Playmate-esque inside image of Fanning donning bunny ears, accompanied by the caption "Two years ago this would have been cute. Now it's hot."
"There's something vaguely icky and kiddie porn-ish about that," she said
The Cosmo issue comes just months after a perfume ad featuring Fanning was banned in the UK for sexualizing a minor.
Fanning appears in the ad for Marc Jacobs' perfume Oh, Lola!. The advertisement crossed the lines of appropriateness, Britain's Advertising Standards of Authority ruled.
In the ads, a very-young looking Fanning is seen in a short, girly dress with a giant bottle of the perfume between her legs.