Is 2014 the year of the Christian film?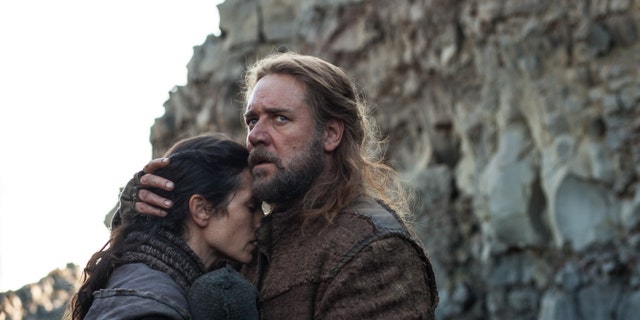 NEWYou can now listen to Fox News articles!
Hollywood may finally be getting the message.
This past weekend, Paramount's "Noah" and "God's Not Dead" were among the top four grossing films at the American Box Office. After winning the March 28 opening weekend with $43 million, "Noah" slipped into second behind "Captain America: The Winter Soldier" but is expected to soon surpass the $100 million mark. Meanwhile, the independent Christian film "God's Not Dead" had an impressive fourth place finish.

The success of these two faith-driven films comes right behind Mark Burnett and Roma Downey's flick "Son of God," which has made almost $60 million domestically since its Feb. 28 release. And with a slate of Christian-centric films on Hollywood's agenda, 2014 has been dubbed by industry press as the year of biblical movies.
So why – all of a sudden – are faith films bringing up the bottom line?

"2014 is a significant year because of the sheer volume of films that are geared toward the American heartland," film producer Mark Joseph, who has marketed both mainstream and faith-based movies, told FOX411. "Hollywood is realizing the interests of the people who live in this country, who have been disengaged from movies and are now willing to give Hollywood a chance. There's a new generation of Hollywood executives coming up who aren't as ideological and political as their older counterparts. They're about the bottom line and aren't as knee-jerk against religious material as previous generations."

And given the number of faith films set for release, confidence in Christian-themed content has indeed seems to be growing.

On April 16, Sony will release the Greg Kinnear-starring film "Heaven is For Real," based on Todd Burpo and Lynn Vincent's 2010 bestseller of the same name. Then there's the faith and family-focused comedy "Mom's Night Out," starring Patricia Heaton and Trace Adkins opening on May 9. Christian political drama "Persecuted" will hit the big screen on July 18, and "Left Behind" starring Nicolas Cage will open on Oct. 3, telling the story of a commercial airline pilot steering his plane in the wake of the rapture. And in December, Fox's biblical tale "Exodus: Gods and Kings," – with Christian Bale in the lead as Moses – will hit in theaters.
A biopic about Mother Teresa tentatively titled "Mary, Mother of Christ," is also in the pre-production pipeline, and Joe Boyd, President of Rebel Pilgrim Productions said they have six Christian films coming out over the next three years, including the Kevin Sorbo-starring "Hope Bridge" this summer. And according to Christy Fletcher, owner of New York-based management and production company Fletcher & Company which works extensively in the Christian market, they are currently developing a project based on the last years of German pastor and theologian Dietrich Bonhoeffer, spawned from the Charles Marsh book "Strange Glory."
"Christians and Jews know who he was – but you don't have to know to be blown away by who he was and what he did. There's a large core audience you can reach for that kind of project and they will help you, then, reach a much larger one because of the visibility you get," Fletcher continued.
According to Joseph, a lack of fresh material on the mainstream side has paved the way for engaging religious stories to be made and marketed money-makers.

"Because Christians didn't tell their stories in film for 75 years, there are lots of great stories that never got told," he said. "On the mainstream side on the other hand you're seeing lots of sequels and remakes – the story supply is running dry."

Yet even with mainstream success, Hollywood is still navigating the rough terrain of making Bible-based movies is still finding its way. The success of the decade-old "Passion of the Christ," which has grossed more than $370 million to-date, immediately inspired numerous studios to set up faith-based divisions – such as 20th Century Fox which established FoxFaith and Sony which imprinted Cloud Ten Pictures. However, these collapsed after a film or two.

"Executives who truly understand America would never create a faith division. They have mainstream divisions that release movies that cover all aspects of life including religion," Joseph noted. "Americans don't want a wall of separation."

But if religious films want to continue getting green lights and bringing it in at the box office, quality control is pivotal.

"The big problem is that the screenplays in the faith-based world are often really bad," added Paul Lalonde, producer of the upcoming "Left Behind." "As Christian filmmakers, it is going to be up to us to raise our own bar and to start making more movies worthy of wide theatrical releases."
Follow @holliesmckay on Twitter.