Ingrid Betancourt's FARC Kidnapping Headed to the Big Screen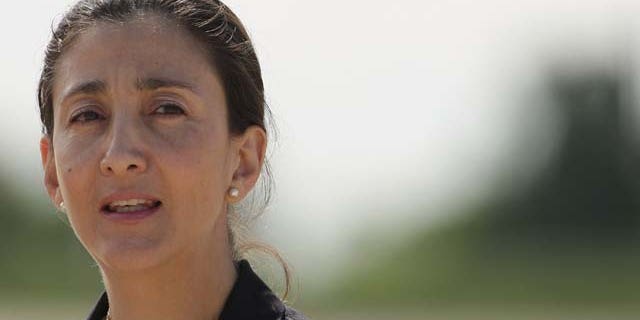 The story of Colombian kidnapping victim Ingrid Betancourt is heading to a theater near you.
Italian actress Caterina Murino will be playing the lead, The Hollywood Reporter reported on Tuesday.
Murino, who played the sultry Solange in the 2006 James Bond flick "Casino Royale", will be playing Betancourt in the film, which will be called "In Search of Ingrid."
THR says the film will be directed by Betty Kaplan, a Venezuelan filmmaker who also wrote the screenplay for the movie.
Shooting for "In Search of Ingrid" is set to begin in a few months. Colombia and Puerto Rico are two of the possible locations where the movie might be filmed, the publication said.
Kaplan's film will portray Betancourt's kidnapping by the FARC (Revolutionary Armed Forces of Colombia) when she ran as a Presidential candidate for the Green party in Colombia back in 2002.
Betancourt was rescued in 2008 and now lives in France, since she has dual citizenship in Colombia and in the European country.
Kaplan is no directing rookie.
The Venezuelan native, who currently lives in L.A., worked with Antonio Banderas in "Doña Barbara" by Romulo Gallegos and in "One Hot Summer" by Caroline García Aguilera.
The entertainment publication says Kaplan has also acquired the rights to Betancourt's book "Even Silence Has An End: My Six Years of Captivity in the Colombian Jungle."
The role of Betancourt's husband will be played by sexy Mexican telenovela actor Valentino Lanús, who has starred in "Amor gitano," "El juego de la vida" "Amar sin limites," "Amar otra vez," to name a few.
Lanús is co-producing the film along with talent agents Peter Raleigh and Robert Katz.
You can reach Alexandra Gratereaux at: Alexandra.Gratereaux@foxnewslatino.com or via Twitter: @GalexLatino