In Jose Mangin, Heavy Metal has a Latino Voice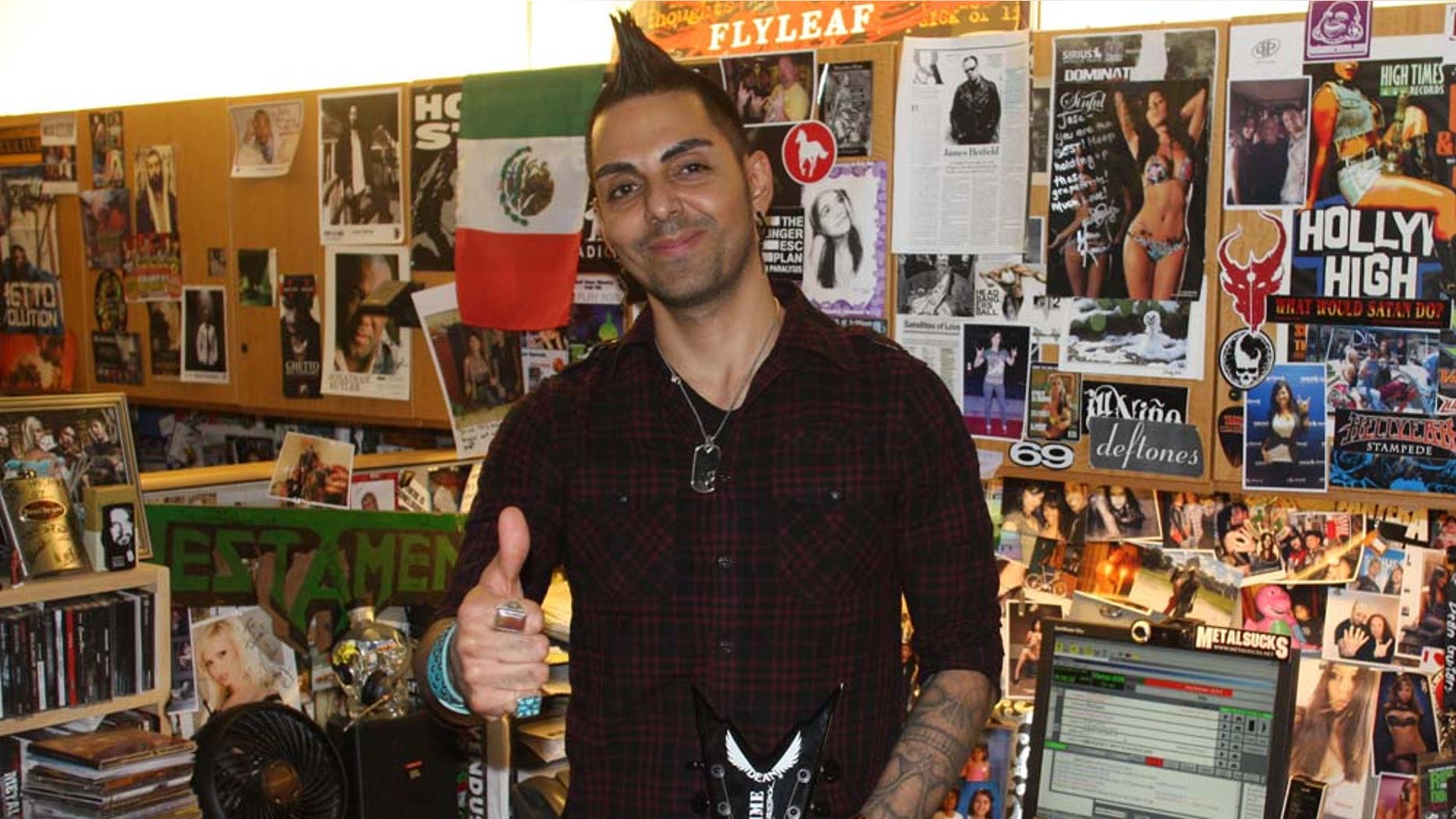 Anthrax, Megadeth, Slayer and Metallica will play in front thousands of fans this weekend in El Indio, Calif. The concert will serve as a reminder to metal-haters that these acts are still here and ready to rock.
And that reminder might be needed. With pop acts like Katy Perry, Justin Bieber and The Black Eyed Peas ruling terrestrial radio right now, heavy metal's profile has diminished with the mainstream.
But unbeknownst to many, heavy metal still has a large and dedicated following – especially on satellite radio. On one channel on Sirius XM radio, a heavy metal die-hard is keeping the faith alive from his New York City studio. Jose Mangin may be, to many fans, heavy metal's biggest voice.
He looks exactly what you'd expect a metal guy to look like – he's covered in tattoos, piercings stud his ears and nose, and a dark black Mohawk snakes across the top of his head.
But if you judge Jose by his appearance alone, you may be missing the point of who he really is and what he represents.
"People don't want to hear you being fake," Mangin said of being on the radio. "They want to hear you being a real person. That's what they want to listen to."
Mangin, 34, is the program director for the heavy metal channels "Liquid Metal" and "Octane" on Sirius XM. In addition to his programming duties, he's in front of the mic every weekday, hosting the 4-9 p.m. EST block for "Liquid Metal."
"I never really looked at as a job," Mangin said of his gig at Sirius XM. "I'm living my dream."
Born and raised in Douglas, AZ – "Nine blocks from the [border] fence," Mangin proudly declares – he was inspired by the "heavy metal dudes with long hair that hung around."
Mangin found his love for metal in kindergarten.
"'Shout at the Devil' by Motley Crue. When I heard it, that was it," Mangin said. "I even threw my parents the devil horns after my communion."
After further promoting his favorite music as the "Heavy Metal Director" for the University of Arizona's KAMP Student Radio, Mangin graduated with a degree in chemistry. He then went to graduate school at the University of Tennessee College of Pharmacy, where in addition to school he was also a DJ for a local station.
He intended to spend his professional career as a pharmacist, but the loud drums and epic guitar riffs of heavy metal led him to make other plans.
"I went to pharmacy school and chose a life of rock and roll," said Mangin. "I called my father, told him I was getting offers from record labels, and he told me how he wanted to be a lawyer, but everyone told him to go to the Army instead.
"We both kind of cried," he added, "but we knew I had to give this a shot."
For the past 11 years Jose Mangin has worked for Sirius XM (simply known as Sirius before the big merger with XM Radio), a company that charges listeners a subscription fee to hear a variety of channels with different content.
"Órale," he says after introducing a song from the band Mastodon.
He mentions to his listeners that a reporter from Fox News Latino is standing by observing him and identifies the reporter as a fellow "Mexicano."
"My tattoos are Azteca, taken from the museum in Mexico City," he said proudly. "My boots are made in Mexico as well. I'm Mexicano."
In addition to his work on Sirius XM, Mangin has a lot on his plate: he also works for Revolver TV, MTV2 and is the co-host of the syndicated show "LATINation," a show that profiles Latinos and Latino culture.
"[LATINation] is something that allows me to showcase Latinos. I represent Mexican-American males on that show," said Mangin.
Pictures of Mangin with some of the biggest names in rock and pop culture dot his Facebook fan page and are plastered throughout his office. Ozzy Osbourne, Gene Simmons of KISS, Cheech & Chong, Lars Ulrich of Metallica – Mangin has pictures with all of them.
"I've played guitar with Ozzy, hung out with some of my heroes. I even had the last interview with Ronnie James Dio [who died last year]. These are guys I grew up listening to," said Mangin. "I don't like to say I'm lucky, because I worked my ass off to get here. But I'm blessed."
Mangin also has shown he has influence in the industry.
In 2009, metal band Lamb of God had a new album coming out. Mangin was so pumped about the album that he dedicated a week of programming to the band and their new album, "Wrath."
When "Wrath" was released, it debuted at No. 2 on the Billboard 200.
"There is no question that the massive exposure was a huge assist," said Jason Lekberg, a former marketing manager for Epic Records, of Mangin's help. "Jose's nationwide support not only allowed us to reach many more people than in the past, but literally blanket them with Lamb of God and their music. He and Sirius are one of heavy metal music's greatest assets."
If that doesn't convince you that Mangin has metal cred, then how about an endorsement from a metal god? In 2008, Rolling Stone Magazine asked Metallica front man James Hetfield, "Who are you listening to?" His response surprised even Mangin.
"There's a DJ on [Sirius] named José who is so in love with metal – he's like a friggin' firecracker," Hetfield said.
"That just blew me away," said Mangin. "I mean, it was such a general question and to say me… wow."
Mangin doesn't let it go to his head, though.
"I never want to get to the point where I'm too cool for school," said Mangin. "I love the music, I love the scene. I just want to go out there and represent Latino."
Victor García is an associate producer for Fox News Channel and a regular contributor to FoxNewsLatino.com.
Follow us on twitter.com/foxnewslatino
Like us at facebook.com/foxnewslatino