In Friday Comedy Act, George Lopez Jokes About His Public Drunkenness Arrest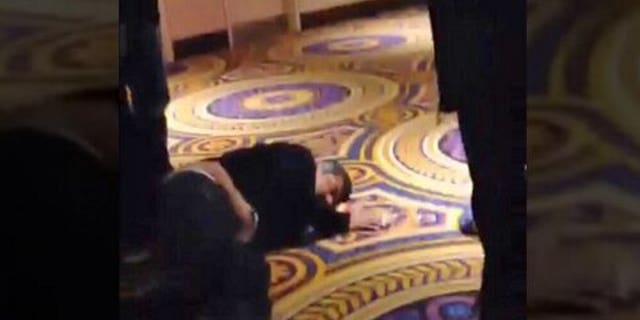 It was not the kind of Hollywood glossy that most celebrities pay big bucks for and push in the media.
There was George Lopez on Thursday night, passed out on a carpet at the Ceasars Windsor Hotel, in the Canadian border city across the river from Detroit.
Lopez, who was arrested then later released without any charges against him, made the incident part of his comedy routine on Friday night at the same hotel.
"I just did in Windsor, what Justin Bieber does in America" he said, according to a video posted on TMZ of the act. Lopez went on to say he took "52 shots" and passed out.
"A guy can't have 52 drinks?" he asked, as the audience laughed.
He praised the audience for crowding the room where he was performing, marveling over how they came from long distances "to see a guy who was asleep face-down about 100 feet from here."
He said he's been drinking since he was a teen, and joked that getting inebriated at 20 is much different than overdoing it at his age, 52.
He said at 20 you can have many shots and wake up with a hangover and say "Shoud we do pilates?"
By contrast, he said he woke up from his stupor not knowing where he was, suggesting a holding cell.
"I thought 'This doesn't look like the Windsor Hotel.'"
According to gossip site TMZ, casino security alerted police after they found Lopez passed out on the floor at Caesars Windsor.
The veteran comedian is a known entity on the small screen, having starred in his namesake sitcom, as well as being the first Latino to host a nighttime talk show, "Lopez Tonight."
He's got a new sitcom starting March 6, called "Saint George."
On Friday night, Lopez noted that "What happens in Vegas stays in Vegas. But what happens in Windsor, everyone knows."
Follow us on twitter.com/foxnewslatino
Like us at facebook.com/foxnewslatino