'Idol' Recap: Lopez Takes on Tyler and Jackson in Houston, calls them 'frickin' crazy'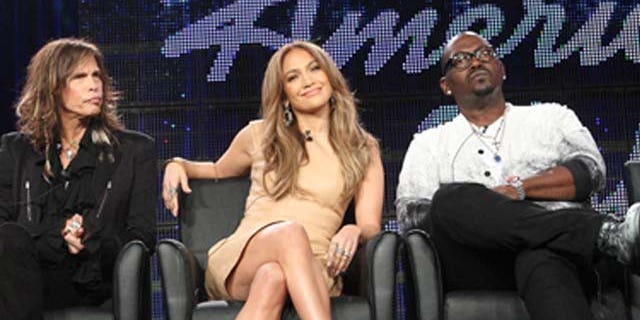 "American Idol" landed in Houston, TX for their ninth visit to the Lone Star State in search of singing talent. "A place where stars are discovered," intoned host Ryan Seacrest. "Including our very first 'Idol,' Kelly Clarkson."
But this season, the next "American Idol" may have been prematurely sent home, if you believe judge Jennifer Lopez.
Three attractive and talented female singers were all given flat-out "noes" from judges Randy Jackson and Steven Tyler, including Cheyenne James who sang a strong version of "Misery" by Pink.
"You know, I'm not sure if you got it for this year's 'Idol,'" said Tyler.
"You're joking right?" asked an incredulous Lopez.
Jackson agreed with Tyler, telling James, "I just don't think you're quite ready yet.'
"Are you crazy," ranted Lopez. "Anybody else in here think they're frickin' crazy right now?
As the judges argued, James stood by awkwardly silent and eventually slunk out of the room.
"Really," raged Lopez. "Some of the people you put through today? Against her?!"
Case in point: Linda Williams screeched her way through, Alicia Keyes' "Fallin'." In the old days, Simon Cowell would have dismissed Williams with a pithy remark and barely a blink. Instead, Tyler raved, "Baby, you can sing. I love your voice."
Lopez, clearly dumbfounded, said, "I feel like I'm in the 'Twilight Zone.'"
When Jackson and Tyler gave Williams a Golden Ticket, Lopez was horrified. "That was awful!"
Fortunately, some real talent made it through to Hollywood, including gun totin', four-wheelin' Mississippian Sklyar Laine, who won over all three judges with a twangy version of the Pistol Annies' "Hell on Heels."
Gorgeous Baylie Brown, who made it through to Hollywood during season 6, but was sent home after forgetting the words during the all-important group round, came back for redemption. "I was just a baby at the time–I was sixteen," Brown explained. "I've definitely grown and matured and Im ready." Singing Bon Jovi's "Bed of Roses," Brown earned herself a Golden Ticket.
"Three yeses, you're through to Hollywood," declared Jackson. "Baylie Brown is back!"
Also winning favor with the judges was handsome Cortez Shaw, who belted out Adell's "Someone Like You."
"You're good looking, you're sweet, you have a great voice," said Lopez. "Yes!"
Also earning a trip to Hollywood was Ramiro Garcia, who was born without ears. "Doctors gave my parents the worst news–your son's not going to be able to hear, he's not going to be able to speak, he's going to mute."
The 28-year-old worship leader from Houston sang a plaintive version of "Amazing Grace" that rewarded him with a Golden Ticket.
Upon hearing the good news, Garcia's father broke into tears. "I remember when the doctors say, 'He no speak, he's not well. He no hear.' Guess what? I'm happy now."
Next up: A "shocking round of auditions" in Portland, OR